Wimbledon: The future hope – Tsitsipas, Zverev, Shapovalov, and Thiem – collapse, but the Geezers – Nadal, Djokovic and Federer – dominate in the first round.
The sickening predictability of men's tennis was at its best in the first round at Wimbledon 2019. The new crop of players since 2004 has served as, nothing more than, fodder for the insatiable appetites of the three, 30+, geezers – Federer, Nadal, and Djokovic. Once again, and for the 15th consecutive time, the first round at the Championships was marked with the routine and highly expected wins of Djokovic, Nadal, and Federer and the, not so shocking, collapse of Tsitsipas, Zverev, Shapovalov, and Thiem!!

Novak  Djokovic is assured an easy ride into the finals.
Stefanos Tsitsipas, the most likely quarterfinal opponent of Djokovic, was ushered out of the Championships by Tomas Fabbiano, and Alexander Zverev, the likely semi-final opponent, was undone by the qualifier Jiri Vesely in four sets.
Novak is assured an easy ride into the final with the exit of Tsitsipas and Zverev. Felix Augur Allissame, in the fourth, and either Daniil Medvedev or David Goffin in the quarters can extend Novak to a tie-break in a  set or, perhaps, two, but none of them can win more than a set against Djokovic.
Everyone awaits the Nadal versus Kyrgios match in the second.
Nadal dispatched Sugita in a routine 6-3, 6-1, 6-3 fashion in the first and will face Nick Kyrgios in the second. Nick, however, survived a bizarre 7-6, 3-6, 7-6, 0-6, 6-1 encounter, against compatriot Jordan Thompson, which lasted nearly three-and-a-half-hours. Nick is 3-3 against Rafa and won the 2014 Wimbledon encounter between them.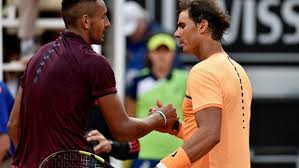 Kyrgios appears super excited about facing Rafa again.
Kyrgios is a big match player who rarely shows up, in the spirit, against anyone not named Nadal, Djokovic, or Federer. He outlasted Nadal in a three set battle at Acapulco earlier in 2019 and appears super-excited at the prospect of facing Rafa again.
"As soon as the draw came out, I was super happy that I saw him in my section," he said. "I mean, it's more exciting. When you're a kid, you want to play the best players in the world on I think it's the best court in the world. This is something that I can't take for granted."
The match will be on Kyrgios' racket, but ………
The match, as anywhere else except the clay, will be on Kyrgios' racket, and we are quite certain that Nick will rise to disappoint – by abusing that very racket – yet again. Nadal will fight tooth and nail till the very end and Nick at some point during the match will crack, and loose miserably thereafter.

Roger Federer faltered in the first, but recovered to win in four.
After the first set hiccup Roger Federer recovered to beat Lloyd Harris 3-6, 6-1, 6-2, 6-2 in four. Federer was a little sluggish and off-time on his shots earlier on and paid the price by losing the first to the South African opponent.
Federer, to improve his prospects here, will need to improve his first-serve-in percentage because 56% will not suffice to beat the better players. Roger won 29 of his 31 forays to the net, he will have to increase that number considerably while maintaining a winning percentage of 65%, or better, at the net. Roger's break points conversion, at 50%, was respectable, and must be maintained, if not improved, during the course of the tournament.

Tsitsipas falls short at yet another slam.
Tsitsipas fired 11 aces  and 54 winners as compared to 1 ace and 45 winners by Fabbiano. Stefanos also won 39 of 59 trips to the net while the Italian won 27 of his 31. Tsitsipas, however, came undone by his poor break point conversion, low first serve percentage, and the inability to step-up in important points. Fabbiano's 68% first serve percentage was a little better than Tsitsipas' 58%. Fabbiano also converted 5 of his 11 break point opportunities as compared to 2 of 10 by Tsitsipas.
Stefanos Tsitsipas has some way to go before he can become a contender at the slams. He must, for starters, work on his serve, as pointed in our previous post, and avoid playing too many tournaments immediately prior to the slams.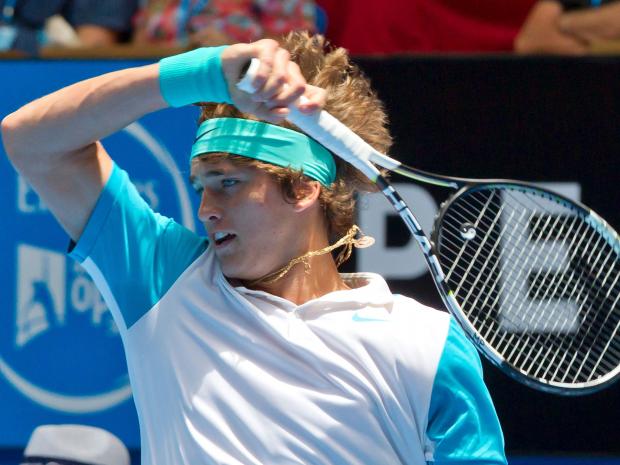 Alexander Zverev failed to capitalize on his power game again.
Alexander Zverev fired 24 aces and 49 winners in his 6-4, 3-6, 2-6, 5-7 loss to Jiri Vesely. Zverev, like Djokovic, is quite inept at the net but made a bold effort by taking 52 trips to the dreaded territory. He won only 26 of those net approaches. His discomfort at the net is as obvious as his inability to win points from the baseline, against the better or inspired players.
Zverev can find redemption at the net.
Zverev must work to improve his net approaches and volleying technique if he truly wants to capitalize on his power game. Zverev's game is powerful but too predictable from the baseline, and, unlike Djokovic and Nadal, he lacks the speed and consistency to pull off regular wins from five feet behind the baseline. Zverev can find redemption at the net but he must hone his approach and volleying skills to round up his game and eventually wreak havoc with his powerful serve and ground-shots. Proper net-rushing and volleying will add the, badly needed, element of surprise and true-aggression, as compared to bland power, to his game.

Shapovalov lacks the sturdiness required for consistent performance.
Shapovalov, like Federer and Tsitsipas, is one of the rare, and nearly extinct, all-court breed. He has an explosive game and is highly talented but lacks the sturdiness for consistent performance on the tour. He went down tamely in straight to the Lithuanian, Ricardas Berankis. Bernakis, for the uninformed, has never progressed beyond the second round of Wimbledon in six appearances. The second round loss to Berankis is bad news for Shapovalov.

Thiem failed to transition from the clay to grass.
Dominic Thiem was not able to make a successful transition to the grass from clay this year. In Thiem's defense, however, Sam Querrey is tough to crack on the grass, and even made the quarters at Wimbledon in 2016.
Thiem, moreover, did not clock enough time on the grass after a grueling clay court season which saw him reach and also loose the second consecutive French Open final in 2019.
What's in the future of Tennis' future?
Zverev  and Tsitsipas must do something to improve their games or their career trajectories will be similar to Grigor Dimitrov's. Shapovalov must add more consistency to last competitive matches against retrievers, and Thiem needs that elusive breakthrough at the French Open within a year or two, before someone else steps up to fill Rafa's shoes.