Will the 2020 ATP Finals be a game changer?
Medvedev conquered all at the 2020 ATP Finals and outdueled both Djokovic and Nadal en route to the title. He shellacked Novak on the fast hard surface in straight, and came back from a set down to conquer Rafa. Thiem too outplayed both Nadal and Novak in the group and semi-final stages. And truly earned his spot in the final. It is a rarity to witness both Novak and Nadal outdone twice, within the span of a week, by players outside of the Big Three.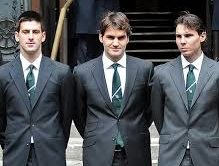 Is it the much anticipated change of guard?
Thiem's three set victory, in the semis, came against Djokovic's gritty resolve to equal the Maestro's record here. Djokovic very nearly pulled off a win, but for Thiem's last minute display of flawless tennis. Dominic recovered from 0-4 down in the third set tie-break to win 7-4! Thiem lost too many close ones to Novak in the past and pulling this one out must have felt good.
Daniil scored the elusive first win against Nadal. He should capitalize on it in the next one against Rafa.
Despite Medvedev's and Thiem's convincing tennis against Rafa and Novak, it would be premature to announce an end to the Big Three reign.
For a true change of guard both Nadal and Djokovic must fail to make finals in eight consecutive slams. Perhaps then it may be time to bid adieu to the slam hungry Big Three.
Will the 2020 ATP Finals embolden others to challenge the Big Three?
Thiem's and Medvedev's performance must make Zverev, Tsitsipas, and Shapovalov feel better of their prospects against the Big Three. They have vanquished, one or more of, the Big Three in the past and should feel emboldened by the 2020 ATP Finals.
Also read: Will the Big Three dominate in 2019?
A true change of guard, however, entails Thiem, Medvedev, Zverev, Tsitsipas, and Shapovalov trouncing Nadal and Djokovic all the times in the slams and at least eight of ten times outside of the slams. And, we don't believe any of them is even close to beating Nadal and Djokovic all times in the slams. We, therefore, predict a Big Three dominance in 2021 too, but would love to be proven wrong.