Sabalenka beats Mertens in Linz Open for 3rd Title of Season
Sabalenka beats Mertens in the Upper Austria Ladies Linz for 3rd title of the 2020 season. Linz Open was the last WTA event of 2020. Aryna Sabalenka and Simona Halep remain the only players to win three WTA titles in 2020.
Sabalenka beats Mertens in Linz to win her eighth career title
The Linz title was Aryna's third for the year and eighth overall. And, the win improved the record against Elise Mertens, her friend and double's partner, to 4-2. Aryna and Elise combined to win the US Open double's crown in 2019.
138 MPH spotted Aryna's potential during the 2016 Fed Cup final between Belarus and the USA. Her serve and powerful ground shots caught our eye in the three set take-down of Sloane Stephens to even the score 1-1.
Also read: About Serena, Federer, and Sabalenka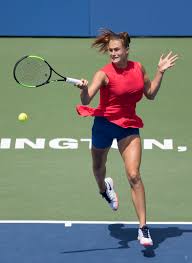 Sabalenka ends 2020 on a high
Aryna also won the previous event in Ostrava, Czechoslovakia. In the J & T Banka Ostrava Open she took down Coco Gauff in the second, Jennifer Brady in the semis, and Victoria Azarenka in the final. Sabalenka combined with Elise to also win the doubles title in Ostrava. The 6-2, 6-2 win over Azarenka, we believe, helped Aryna gain confidence for the back-to-back win in Linz.
The double crown in Ostrava followed by the 7-5, 6-2 beat-down of Elise Mertens for the Linz title announced Aryna Sabalenka as a force to reckon with in 2021 while cementing her entry into the year-end top ten.
"This is something amazing," Sabalenka said in the post match interview. "I don't want to say anything, and just cross my fingers so more wins come to me. This is the perfect end to my season, so I can be happy and relaxed for my holidays and pre-season. I'll keep working to make sure I can maintain this level next season."
And, we believe, Aryna Sabalenka will make good on that threat in 2021.