Nadal plays Tsitsipas for a semifinal berth in London
Nadal plays Tsitsipas in London with a semifinal berth at stake in the 2020 ATP Finals. The winner will make the semifinal while the loser will pack the bags for home.
Thiem dispatched Nadal in straight on Tuesday
Thiem beat Nadal in a near perfect display of tennis on Tuesday. And, nothing short of flawless and aggressive tennis would have stopped Nadal from taking Thiem down. The bull is hungry to win his first ATP Finals but his path to the promised land is fraught with dangers. Hungrier and more accomplished indoor jungle predators lurk in the wait for him.
Also read: Thiem and Nadal win their first group matches
Tsitsipas is 1-5 against Nadal. He lost a nail biting three set thriller to him in the 2019 ATP Finals, but won the event by taking down Thiem in the finals.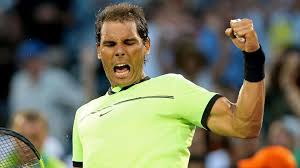 Expect fireworks when Nadal plays Tsitsipas on Thursday
We expect an edge of the seat barn burner when Nadal plays Tsitsipas for the seminal berth on Thursday. Stefanos is the defending champion here and Nadal a two time finalist.
Also read: Federer and Tsitsipas remain the last of the Mohicans
Stefanos must bring his A+ tennis, and then some more, to the match to stand a chance. He will need to play consistently aggressive, and take the ball early. Tsitsipas must minimize unforced and double faults to stay competitive. Nadal has been playing well and was quite close to winning even against Thiem. And, Thiem is way more consistent than Tsitsipas.
Stefanos has an all court aggressive game but lacks the consistency to beat Rafa. He must play his best tennis to beat Nadal. Anything less than the best would see Nadal rather than him in the semifinals.
Conclusion: This is a 51%-49% contest in favor of Rafa. Tsitsipas need to close in two to stand a better chance at taking down Nadal. And, Nadal is more likely to win if the match goes three sets.