Djokovic must beat Zverev after the loss to Medvedev
Djokovic must beat Zverev after the loss to Medvedev in the group stages on Wednesday. Medvedev dispatched Djokovic 6-3, 6-3 for a semifinal berth at the ATP Finals in London. Zverev, however, survived a 6-3, 4-6, 6-3 tussle against the Argentine, Diego Schwartzman.
Medvedev schooled Novak in straight
Medvedev was 0-3 in the group stages at the O2 last year. He even suffered a mental collapse from 5-1 up in the third against Nadal in his ATP Finals debut last year. This year, however, Daniil has come out all guns blazing and taken out both Zverev and Djokovic in straight.
Daniil scored three consecutive breaks to go from 3-3 in the first to 3-0 in the second. He saved the only breakpoint he faced, and closed all doors for Novak on the first match point at 6-3, 6-3.
"He was just better, no question about it," Djokovic said. "Just not a great match from my side. I thought I could have and should have done better, but credit to him for playing on a high level."
Also read: Decoding the BIG Three and Murray
Djokovic leads 4-3 in their rivalry, but Medvedev has won 3 of the last four between them. This is the first time, however, Daniil dispatched Djokovic in straight sets.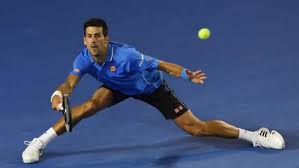 Djokovic must beat Zverev to make semifinals
Djokovic must beat Zverev in the last group match to keep alive his hopes of equaling the Maestro's record at this event. It's "do or die" for Novak now. Novak is 3-2 against Zverev and has won the last two of three between them.
Zverev lacks the consistency of Medvedev and is also more susceptible to mental break-downs. He, however, has the ground shots and serve to outplay Novak. To beat Djokovic, however, Zverev will have to serve immaculately and play aggressively. Will Zverev deliver the consistent controlled aggression required to take down Djokovic? It's a long shot, but nothing short of spectacular tennis will hold Djokovic from making the semifinal he desperately seeks.
Conclusion: Zverev stands a better chance of winning in straight, whereas, Novak will fare better in a three set grind. Djokovic, therefore, has a 51% shot to Zverev's 49% of winning.