Wimbledon Tennis: Marin Cilic's draw analysis.
Until the draw ceremony at Wimbledon, Marin Cilic and Roger Federer were the most likely ones to make the finals. Marin, however, landed himself in Roger's half of the draw to make matters a little more interesting for Federer, himself, and the championship.
Marin's early rounds at Wimbledon.
Marin Cilic will begin his 2018 Wimbledon campaign against, the 22 years old and 166th ranked, Yoshihito Nishioka of Japan. The two have never met before but Cilic, we can safely assume, has too much game and experience to lose to Yoshihito. Guido Pella who is 0-1 against Cilic could be his second round opponent, and guessing from Cilic's grass-court form lately, Pella would probably be done and dusted in straight.
Possible third round opponent for Marin Cilic.
If the seeding holds, Marin Cilic's third round would be against Filip Krajinovic. Filip and Marin have never met before, but Filip has won six of his last ten and has taken down Marcos Baghdatis and Benoit Paire this year. Cilic, however, should get past this opponent in four sets.
Possible fourth round opponents for Marin Cilic.
Things will start getting interesting for Marin Cilic from the fourth round where he will probably be the winner between, the 17th seed, Lucas Pouille and, the 13th seed and ace machine, Milos Raonic. Cilic won the only encounter against Pouille, at the Davis Cup, in four and his record against Raonic is 2-1. Milos Raonic made the final at Stuttgart this year and was defeated by Roger Federer there. The outcome of the match rests equally on how good Milos would be serving that day, and this could be a tough one for Marin Cilic. We believe Cilic has a good enough chance of winning the match, in 4 or 5 sets, as he is more in form than Milos who has just recently returned to competitive tennis after a string of injuries.
Marin Cilic's possible quarter-final.
Should Marin Cilic overcome the Milos Raonic challenge in the pre-quarters, his reward in the quarters could be a meeting with the winner between John Isner and Grigor Dimitrov? Marin Cilic is 3-1 against Dimitrov and 7-3 against Isner. Marin has also won the two grass-court matches against John Isner.
There is a slight possibility that the talented Stefanos Tsitsipas could emerge from Dimitrov's section to face Marin Cilic in the quarters. Of the three possible opponents, John Isner, with his big serves, would be the most dangerous for Cilic. John Isner is a seasoned player and can take out just about anyone on his day. Isner has beaten both Federer and Djokovic twice in his career so far. Cilic, however, owns a positive head-to-head against all these possible opponents and is the favorite to make the semis against Roger Federer.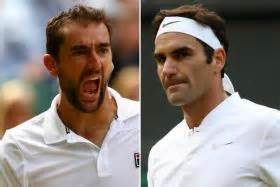 Marin Cilic's semi-final against Roger Federer.
The possible semi-final against Roger Federer would be Marin Cilic's sternest test in the tournament. Marin is 1-9 against Federer and played the match of his life to reach the finals of the US open, the one time he beat Roger. We give him about 35% shot at taking Roger out in the semi-finals of Wimbledon. Cilic lost the Wimbledon final to Federer last year in straight and had a tight five-set encounter with Federer in the finals of the Australian Open this year. Cilic threw everything he had at Roger at the Australian Open but still couldn't win in the end. Roger Federer, we believe, has too much variety which doesn't allow Marin Cilic any rhythm, and Cilic, on his part, doesn't have enough imagination to dominate Roger over a five-set match.
The final against either Djokovic or Nadal.
If Cilic clears the Fed test in the semi-final, he could meet either Novak or Rafa in the finals; and either of them would be easier to beat than Roger Federer in Wimbledon. Marin Cilic is 2-5 against Rafael Nadal and 2-14 against Novak Djokovic but based on his current form he'd probably be favored to win against both in the finals.
Semi-final Outcome: Roger Federer over Marin Cilic in four tight sets.