Wimbledon: Goffin, Pella, Agut and Querrey join the veterans – Federer, Nadal, Djokovic, and Nishikori in the quarterfinals.
In the 2019 men's Wimbledon draw, Roger Federer, Rafael Nadal, and Novak Djokovic demolished their opponents with relative ease. Kei Nishikori, Baustita Agut, Sam Querrey, and David Goffin also outlasted their opponents to move into the quarterfinals.
Milos Raonic, however, was upset 3-6, 4-6, 6-3, 7-6 (3), 8-6 by Guido Pella.
Roger Federer's masterclass to Matteo Berrettini.
Roger Federer gave Matteo Berrettini a masterclass in grass-court tennis with a 6-1, 6-2, 6-2 walloping in the fourth. Roger dominated the proceeding with 24 winners, and won 39 more points than Berrettini! Roger benefited from Berrettini's low first serve percentage and, in fact, fired more aces than the big-serving Matteo.
The legend has it that Berrettini took out his checkbook and offered to compensate Federer, during the hand-shake at the net, but Federer refused to accept any for the first lesson. The business-minded Roger, however, put Matteo on notice to keep the check ready for their next meeting.
Roger will meet Kei Nishikori, who took-out Mikhail Kukushkin in four. Roger is 7-3 against Nishikori and has won 6 of their last 7 encounters. Federer, however, lost the last time they played at the ATP World Tour Finals in 2018.
Conclusion: If Federer continues to play the same brand of tennis he played against Pouille and Berrettini then Nishikori will be hard pressed to get more than a set off Roger.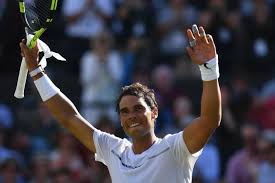 Rafael Nadal showed tremendous form in his win against Sousa.
Rafael Nadal, the third seed, decimated Joao Sousa 6-2, 6-2, 6-2 to set a meeting with Sam Querrey in the quarters. Sam is a natural on the grass and is capable of upsetting Nadal.
Sam defeated Dominic Thiem in the first and also reached the final of the Nature Valley International in Eastbourne in June. Sam is 1-4 against Nadal but won the only hard court match between them since 2008! Sam has been serving well and hitting hard. He fired 25 aces in his 4th round against Sandgren and has the goods to cause an upset here.
Conclusion: Querrey is in good form, but Rafa, except against Kyrgios, has been dominant, and should eke out a win in 4 or 5 sets. Sam will have to be very consistent and play out of his skin to oust Nadal at this stage in the tournament.
David Goffin will face Novak in the quarterfinal.
David Goffin reached the final in Halle and will face Novak in the quarterfinal at Wimbledon. David has not been dominant in his victories. He was stretched into the fifth by Daniil Medvedev in the third, and four closely fought sets by Fernando Verdasco in the fourth. David's game however is very aggressive and good enough to topple Novak Djokovic in a best of three match.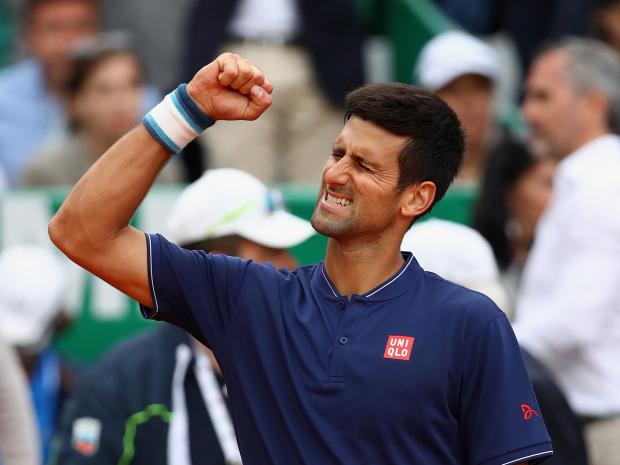 Djokovic is enjoying the easy ride and should brush aside a run-down Goffin in the quarterfinals.
Novak Djokovic has an easy draw until the final, and the match against David Goffin will be another easy one for him. Novak has not faced a seed until now and Goffin, the only seed for Novak so far, will arrive tired, worn-out, and as an easy-picking for him. Goffin is a talented player, but lacks the stamina and strength to last a drawn out five-set battle against the very best retrievers, like Djokovic.
Conclusion: Novak is 5-1 against Goffin but the last one between them was won by Goffin. Novak Djokovic should finish a dilapidated David Goffin in three or four sets.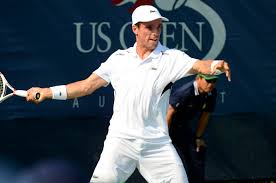 Guido Pella versus Bautista Agut.
Guido Pella has been outstanding so far. He took out past Wimbledon finalists in the third and fourth rounds. Milos Raonic and Kevin Anderson were sent packing unceremoniously by the 29 years old, and 26 ranked, Argentinian.
Bautista Agut has been rock-solid in his campaign so far, and dispatched Karen Khachanov, the 10th seed, and the talented Frenchman – Benoit Paire – in straight sets.
Conclusion: Roberto Bautista Agut is 2-0 against Guido Pella and won their last encounter on the Munich clay this year. This match is too close to call, but we'd like to give a slight advantage to Agut in this one.