Tennis: Are Tsitsipas, Shapovalov, and Zverev the NextGen's Big Three?
What if, by the end of 2018, Federer retired from the professional tennis circuit, and Djokovic and Nadal, because of their grinding and punishing styles, succumbed to career-ending injuries? Not a pleasant thought, but a possibility which would usher the dark ages in the tennis world, and leave it scrambling for the next set of heroes and rivalries.
We need heir apparent to the Big Three.
The king, contrary to Djokovic's mother's proclamation in 2008, is still alive and kicking, but it wouldn't hurt to anoint an heir apparent and understudy, a prince at this juncture. The fans love the idea of something BIG in their sport. Tennis should cultivate its next BIG-something before the fading away of the existing giants. With so much discussion and media coverage of the Big Three, who are well into their thirties, this may be an opportune moment to select the next set of heroes, albeit, under development, to worship at the tennis altar.
Who would constitute the next Big Three?
While the jury is still out on that, we, guided entirely by our personal preferences and whim, will make so bold as to select Stefano Tsitsipas, Dennis Shapovalov, and Alexander Zverev to wear the cloak of invincibility. The Big Three classification comes with the 24×7 pressure of performing and delivering under most, if not all, circumstances. They walk with a Bigger target behind their backs and get no respite from the constant demands of the rat race.
There are no assurances.
There is no assurance that any of our selection would live up to the high standards and 24×7 performance expected of the Big Three. Their only advantage is the continued dominance of the ruling Big Three, while they hone their crafts and minds to meet the demands of the position. No one, however, gets to join the party till the ruling geezers continue leveraging their 4000 years of accumulated wisdom and experience to rule the tour. For the much-desired shift in the status quo, the current crop must retire and ride into the proverbial, sunset.
We understand the risk in selecting utter neophytes as the next Big Three, but there is a method to our madness, with which you may, or may not, agree.
Why Stefanos Tsitsipas?
Both Tsitsipas and Shapovalov are equally aggressive but Stefanos Tsitsipas, we believe, has displayed controlled aggression reminiscent of Roger Federer. Alexander Zverev may hit the ball harder, but his game does not qualify as aggressive. Belting winners, from behind the baseline line is not aggressive tennis. Taking the ball early and on the rise, while creating an opportunity to move inside the baseline and towards the net by the fourth or the fifth shot, however, qualifies for aggressive tennis. The kind of tennis that Roger Federer can play when at his best.
Djokovic was unraveled by the aggressive play of Tsitsipas.
We saw Stefanos Tsitsipas unravel Novak Djokovic with that same aggressive brand of tennis and a 6-3, 6-7 (5) 6-3 thumping in the third round of the Roger's Cup in Toronto this year. We know Stefanos can play aggressively. Can he, however, do that one match and tournament after another? Can he cut down on unforced while playing aggressively? We believe, with a little more maturity and experience, he can.
Tsitsipas' backhand can rule.
We believe, Stefano's single-handed backhand will be a weapon down the road. The dependence on the non-dominant foot hinders the development of the backhand into a weapon as powerful as the forehand. Therefore, except Stan Wawrinka's, no other backhand can be classified as a weapon. Stefanos, we believe, may also manage to hone his backhand into a WMD over the next few years.

Why Dennis Shapovalov?
Dennis Shapovalov is another of those aggressive players who can move in and dictate points. Shapovalov too has a single-handed backhand, and with his talent, he may turn that backhand into a strong shot to create openings and finish points. His single-hander is quite impenetrable already even by Nadal! Shapovalov's serve and forehand are quite powerful and has displayed the presence of a champion on the court.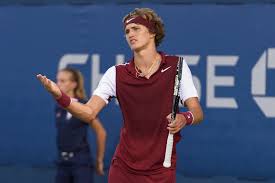 Why Alexander Zverev?
Alexander Zverev is a big hitter with a powerful serve and moves surprisingly well for a tree-top. He has won some big tournaments and claimed big scalps, including Novak's and Roger's, over the last two years. His game seems more mature and put together than Shapovalov's and Tsitsipas', and with Ivan Lendl, in his corner, he may be the first of these three to claim a slam.
Alexander Zverev, however, is a pure baseliner who doesn't like moving into it and towards the net to take advantage of the openings he creates. His matches, therefore, drag on forever and the rallies never seem to end. Zverev, therefore, is out by the quarters in the slams and is rarely a threat in them. Zverev, therefore, may not be a long-term Big Three contender.
Why them, and not Borna Coric, Hyeon Chung, and Nick Kyrgios?
Borna Coric and Hyeon Chung are great retrievers, shaped in the same mold as Novak Djokovic. Both have achieved much at such a young age. They, nevertheless, are retrievers without the finishing punch and power of Shapovalov, Tsitsipas, and Zverev. They must hone their retrieving style to the level of a Djokovic or Nadal because anything less will not do.
Nick Kyrgios, on the other hand, is a study in talent wasted by lack of discipline.

Djokovic offers the blue print that a player can replicate.
Djokovic, however, offers the blueprint that a player can replicate. It is impossible to copy the Maestro, and one can be faster, stronger, and even more talented than Federer but fail to play as fluidly and effortlessly as him. Copying Nadal's style is an invitation to chronic injuries. Further, there's no reason to copy Nadal when Djokovic's is an easier and a better model to replicate.
Why not Nick Kyrgios?
Nick Kyrgios is very talented and also quite athletic. He, however, lacks the discipline to reach the very top of tennis or any other sport, for that matter. Nick must cultivate the discipline required to win matches and snatch victory from the jaws of defeat on a consistent and daily basis. That, we believe, would be a tall order for Nick Kyrgios to accomplish.