Tennis: Serena, Federer, and Sabalenka
Serena Williams is taking a much-deserved break from active duty on the WTA. This proud mom played just 24 matches with an 18-6 win-loss record this year and reached the finals of the US Open and Wimbledon.
Serena Williams had an impressive comeback after childbirth.
Serena Williams had an impressive comeback after childbirth as 36 years old. She turned 37 on the 26th of September this year, and dominates women's tennis even today. With the chair-umpire controversy somewhat behind her, Serena can look forward to a rejuvenating time off the circuit with family and friends. Along the way, we know, she will also find the time to lend her presence and name to causes such as breast cancer awareness and more. More power to the Rena.

Roger Federer and the Laver Cup.
Roger Federer, in the meanwhile, had mixed results at the Laver Cup. He won his singles event against John Isner and Nick Kyrgios but lost the doubles 6-7 (5-7) 6-3 10-6 with Novak Djokovic against Jack Sock and Kevin Anderson and then teamed up with Alex Zverev to lose 4-6 7-6 (7-2) 11-9 to Jack Sock and John Isner on Day three of the event. It doesn't take rocket science to deduce that Djokovic's and Zverev's lack of net skills were the reasons for those losses.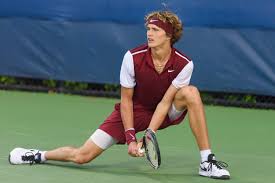 Djokovic and Zverev need to work on their net games.
Roger Federer, perhaps, is one of the best doubles players in the world and has an Olympics Gold to prove it. Roger pulled off the Olympics final single-handedly when Stan Wawrinka appeared overwhelmed by the occasion. In doubles, as many of us know, the service is as good as the net-skills of the partner at the net, and neither Novak nor Sascha Zverev are comfortable at the net. Roger's serve was, therefore, broken a few times because of his partners' inability to capitalize on the returns from the opponents. It is a shame that Novak Djokovic, one of the all-time greats and soon to be the number one again is, so bloody, clueless at the net. Shouldn't there be a law against that?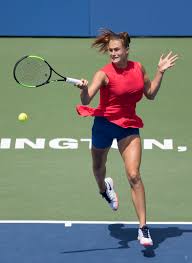 Aryna Sabalenka is on the rise.
Aryna Sabalenka has been on the rise since Belarus' 2016 Fed Cup final against the US, where she edged Sloane Stephens 6-3, 3-6, 6-4 to even the score 1-1. Aryna Sabalenka is six feet tall and, has a solid and dependable service which can be an effective "get out of jail" card in tight situations. She has booming ground shots and moves considerably well for a tall player. She is, in fact, a complete player with a multi-slam potential. Sabalenka won the $2.7 million Premier 5 event by taking down Anett Kontaveit 6-3, 6-3 in the Wuhan final last week. Technically, we feel her swing is too big on the ground shots and may come apart against super defenders like Wozniacki and Halep. The big swing may even affect her performance on faster courts against a hard and flat hitting player. She, however, is in luck and has little to fear because there are no fast court tournaments left in the women's tour and it may take a few years before the fans start getting tired of endless rallies and demand the return of a few fast court events in the mix.