Kyrgios practicing what he preaches! How long will it last?
Nick Kyrgios, since the beginning, has been consistently vocal about taking the pandemic seriously. He relentlessly preached the merits of social distancing, as well as taking care of one's health in these tough times. And, with the decision to join Ash Barty in missing US Open, we see Kyrgios practicing what he preaches.
Has the bad boy of tennis turned a responsible person, after all?
Is this the same person who tanked matches, broke rackets, shouted at opponents, umpires, and the spectators only a few months ago? Has Nick wised up beyond his age suddenly? He sounds more like a statesman than the spoiled bad boy of tennis!
Also read Kyrgios is as good a crowd puller as Roger Federer.
"We can rebuild our sport and the economy but we can never recover lives lost," Nick's reason for skipping US Open 2020.
"I will not be playing this year at the U.S. Open. It hurts me at my core not to be out there competing in one of the sport's greatest arenas, Arthur Ashe Stadium," Kyrgios explained in the recording. "But I'm sitting out for the people, for my Aussies, for the hundreds and thousands of Americans that have lost their lives, for all of you. It's my decision."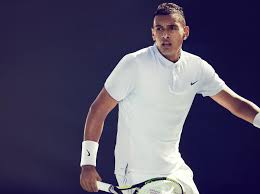 Kyrgios practicing what he preaches, and schooling his fellow players while at it
Nick did not miss the opportunity to take a shot at his fellow player too. "Tennis players, you have to act in the interest of each other and work together," Kyrgios added. "You can't be dancing on tables, money grabbing your way around Europe or trying to make a quick buck hosting an exhibition. That's just so selfish. Think of the other people for once, that is what this virus is about."
Also read Comparing Thiem, Zvrev, Tsitsipas, and Kyrgios.
It takes courage, perhaps not so much in Nick's case, to point out the shortcomings of friends and colleagues. And, Nick has gone one beyond courage, by taking on Novak Djokovic, the head honcho in the tennis world, over the pandemic issue. More power to Nick for that.
Only if the statesman, and leaders around the world picked up some of the maturity and common sense from our man Nick.