Zverev, denies Federer, to face Djokovic at the ATP Finals in London.
Alexander Zverev, denied Roger Federer a shot at the 7th career ATP Finals title, to face Novak Djokovic in the final of the ATP Finals in London.
The slow and low-bouncing courts of the O2 Arena in London.
Djokovic, in the other semi-final, dispatched Kevin Anderson, 6-2, 6-2, quite comfortably and without the drama and controversy of the Zverev versus Federer clash. Alexander Zverev played inspired tennis to oust Roger Federer 7-5, 7-6 on the slow and low bouncing courts of the O2 Arena in London.
Federer lost to Zverev's powerful serve and consistent hard-hitting.
The controversy which ensued after Alexander Zverev halted play, during the tie-break, in the middle of the point at 3-4 was, sadly, the highlight of the match. He stopped play upon noticing another ball on the court and was greeted with boos from a heavily pro-Roger crowd when he aced Roger upon replay of that point.
Federer was stumped fairly-and-squarely by the powerful serve and consistent hard hitting of Zverev who averaged 135 MPH on his first serves in the match and won 86% of those points. He played patiently from the baseline and was aggressive enough, on the returns, to break at love with Federer serving at 5-6 in the first set. It was a well-deserved win for Zverev.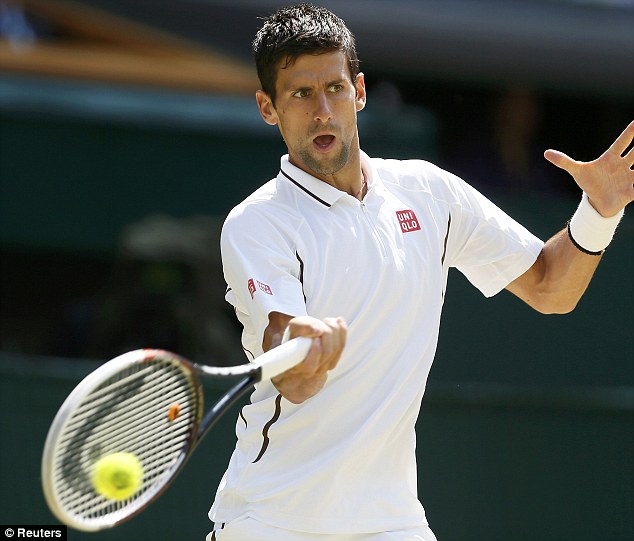 Novak Djokovic versus Alexander Zverev.
The courts, including the O2 arena in London, are designed for rallying and the retrievers and grinders. The hard-hitters can benefit if they are superbly consistent. Alexander Zverev was exceptionally consistent against Federer but Novak Djokovic, however, has put more balls back into play in 12 years than Federer in 18. Novak is the master grinder, and the slow surface of the O2 Arena is tailor-made for Novak Djokovic.
Djokovic would be easier than Zverev on the low bouncing courts, for Federer.
Only Roger Federer, at his best at 37, has the variety, aggression, and the all-court game to use the low bounce of the O2 court to exploit Novak's discomfort at coming forward and towards the net. We firmly believe that Federer would have found it a little easier to play Novak Djokovic at the O2, because Novak, unlike Zverev, lacks a 135 MPH serve and the raw power to blast through the Maestro.
Conclusion: Novak Djokovic, barring a miracle, in straight over Alexander Zverev.