Wimbledon Week 2- Murray, Nadal, Konta
With week two about to start here are some names and matches to look out for as Manic Monday gets under way.
Andy Murray
Supposedly, Murray has the easiest route to the semifinals, compared to the other three players which make up the big four.
Murray's next round is against Benoit Paire, a french-man who has never before reached the quarterfinal at a Grand Slam. Compared to Murray's achievements, Paire still has a long way to go. Murray however, seems to be facing some issues with his movement and his hip, and hasn't exactly been playing outstandingly. If Paire want to win this match he will have to bring out some of his best tennis.
If Murray is able to make it past Paire, he will either play Sam Querrey or Kevin Anderson, both players that are known for their huge serves and also known for the upsets that they can cause on big stages. Querrey beat Djokovic in the third round of Wimbledon last year, and Anderson has defeated Murray in the quarterfinals at the 2015 US Open.
If Murray is able to make it to the semis, things will only get rougher. He has Nadal and Cilic remaining in his draw, and with the way Nadal has been playing, Murray will most likely face Nadal, a tough opponent that will require some great skill and mental fortitude to defeat.
The good news is that if Murray reaches the finals, he at least gets to keep his number one ranking.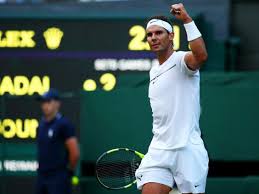 Rafael Nadal
Nadal, who for some reason wasn't really high up there in the most likely to win categories, has worked his way back into the ranks of people to watch out for at this year's Wimbledon. With the way he has been playing and the ease with which he has won his first three matches, Nadal is definitely not a player to take lightly.
In the fourth round he faces a big server Gilles Muller, which could be a tougher match for Nadal because of the aggressive style of play and service weapon. Nadal does have good returns though, and if he makes it through the fourth round he might just play another big server Marin Cilic.
Cilic will be a tough match for Nadal, not just because of the game styles but also because Cilic is a quite experienced player. Nadal will most likely pull through the match though, and face Andy Murray in the semis.
From there on it could be anyone's match.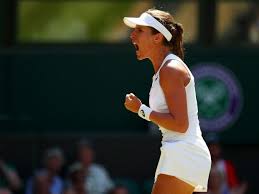 Johanna Konta
Konta is the fresh British favorite this year. With a pretty good record on grass, and playing superbly, there is no doubt that Konta may just be the next Wimbledon champion.
Konta has been playing some great tennis throughout the first three rounds of the tournament. In the fourth round she faces Caroline Garcia. Garcia did well in the French Open this year, and has deft hands that can deliver punishing volleys.
This match will be difficult for Konta, and will prove whether she is able to handle different playing styles, especially on a surface like grass which favors aggressive players who come forward to the net.
Konta has consistency on her side. She is not only a consistent player in terms of winners and unforced errors, but she is able to consistently perform at a high level, a skill that should help her win her fourth round match.
Konta has also been handling the pressure well, taking each match on at a time and focusing on the present, even though her half of the draw is tough.
Konta may just be on her way to the finals.
Save
Save