Wimbledon – Thursday's recap and Friday's predictions
Age defiance seems to be the trend this Wimbledon, with 37 year old American, Venus Williams defeating Johanna Konta in straight sets, 6-4, 6-2 to reach the finals this year.
Venus managed to keep up the pressure throughout the match, refusing to give up any of her service games and putting the pressure on Konta's service games. Konta would face difficulty in most of her service games in the first set, going to 30-30 or deuce because Williams was refusing to give Konta any space to breathe.
Konta's errors v/s Venus' experience
There was a chance that Konta would break Williams at 4-4, but Williams would step up to the plate and hit a backhand winner, an amazing second serve, and a forehand winner.  From there on out, Venus would ride the momentum into the second set, getting an early break in the second at 3-1.
Konta would make quite a lot errors, hitting balls wide on the sidelines, and long on the baseline, in an effort to try and gain a foothold in the match. Things just wouldn't work out for her.
The ageing of women's tennis
While age was considered a troubling factor just a few years ago on the tour, the age of success in tennis has risen tremendously, especially women's tennis. While before you were expected to rise to the top at 21-22, more and more of the top ten and twenty players are well into their mid to late twenties or early thirties.
"I've played a lot of finals here. One more win will be amazing. It won't be a given but I'll give it my all," said Williams. In the finals she faces Garbine Muguruza who defeated the unseeded but dangerous Rybarikova, 6-1 6-1.
Muguruza dominated Rybarikova
Muguruza stepped on the court with the intent of winning the match right from the beginning. Even though there were some questions about her heavily strapped thigh, Muguruza left no doubt that she would be able to give her all when she won the first five games in 25 minutes.
Rybarikova seemed uncharacteristically nervous, and when she won her first game at 5-1, it still didn't seem like things were about to turn around. Rybarikova's usually tricky and unpredictable game was unable to faze Muguruza in any way.
Muguruza read the drop shots, she attacked the weak second serves, and prevented Rybarikova from gaining any rhythm at all.
"I think I played very well, for sure," reflected Muguruza.
"It was a tricky match. She is a very talented player. She was playing very good during the tournament and I think today I stepped up on the court super confident, and everything went well."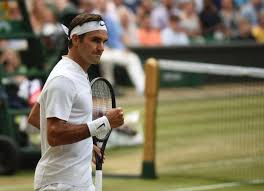 Roger defying age

Roger defeated Milos Raonic for a spot in the semifinals, and will be facing Tomas Berdych.
Tomas Berdych and Roger Federer have met multiple times throughout the course of their career. Their head to head is 18-6, Roger in the lead.
The last time Roger lost to Berdych was in 2013. Berdych has been performing exceptionally well in the last few years. He has consistently been making it far in all the Grand Slams, and is a threat to many players.
However, when it comes to to the top players, like Murray, Djokovic, Federer, and Nadal, Berdych has been unable to make any amazing break through. It would not be surprising to see Federer make it through Berdych in straight sets.
The match will be a fun watch. Serves will be popping, there will be a lot of coming to the net, and powerful shots from both sides, but in the end Roger will emerge victorious as he has done several times before. Berdych will really have to play out of his skin if he wants to have any chance of winning this match.
If things go as expected, Roger will face the winner of Marin Cilic and Sam Querrey.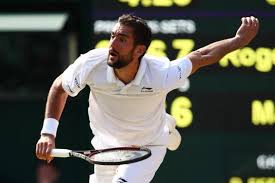 Cilic or Querrey in the final?
This is a semifinal of firsts. Both Cilic and Querrey are reaching the semifinals of Wimbledon for the first time. Both players have an extremely similar game, with big serves that dominate their respective matches.
While Cilic leads in the head to head 4-0, three of the matches have gone the distance. The last time they played, Cilic won 7-6, 7-6. We can expect something similar.
Both players will hold their serves, and it will come down to who can hold their nerves during the tie break. If one of the two can mange to break, they will likely win the set, but for all intents and purposes everyone watching should expect a tiebreak at the end of each set.
It is most likely that our two finalists will be Roger and Cilic, but Querrey has a chance and he may just be bold enough to grab it too.  We'll soon find out ………
Save
Save
Save
Save
Save
Save
Save