Tennis: Alexander Zverev and Novak Djokovic win their openers at the ATP Finals in London.
Alexander Zverev beat Marin Cilic 7-6 (5), 7-6 (1) and Novak Djokovic out served the serve-bot John Isner 6-3, 6-4 in their opening matches at the ATP Finals in London.
Novak Djokovic versus John Isner.
Novak Djokovic outmaneuvered John Isner in every aspect of the game, including the service. Novak's 22 winners and only 6 unforced helped him dominate the match. Isner is known more for his booming serves and aces, than anything else. It was Djokovic, however, who held his serve and did not face a break-point in the match, while breaking Isner once in the first and twice in the second set. Djokovic played exceptionally well from the baseline and gave John little opportunity to mount a comeback in the match.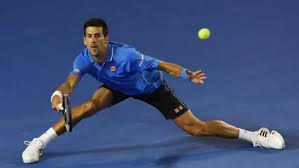 Novak Djokovic won his 50th match of the year, with the win.
With the win, Djokovic completed 50 match-wins for the 11th time in his career and is 50-11 for the year so far. He has reached the 50-match milestone 11 times out of the last 12. He also improved 9-2 in the head-to-head record against Isner. The win also places Novak Djokovic firmly on the path to making the semi-finals of the event.
Alexander Zverev versus Marin Cilic.
Marin Cilic managed to snatch defeat from the jaws of victory, by producing three unforced and a double-fault on the set point in the first! He also squandered his break in the second and came woefully short in the tie-break. With yesterday's win, Alexander Zverev improved his career-record 6-1 against Marin Cilic. It was Zverev's sixth consecutive beatdown of Marin Cilic, since his last and only loss at the Washington DC event in 2015.
The pressure is squarely on John Isner and Marin Cilic to win their next one or risk missing the semi-final berth at the ATP Finals in London.