Are Karolina Pliskova and Ashleigh Barty ready to win the Wimbledon Championships?
Karolina Pliskova announced her Wimbledon intent with a 6-1, 6-4 trouncing of Angelique Kerber, the defending Wimbledon champion, at the Nature Valley event in Eastbourne, and Ashleigh Barty established herself as a contender by trouncing Donna Vekic, en-route to the title against Julia Goerges in the Birmingham final.
Pliskova didn't drop a set en-route to the Eastbourne title.
Karolina Pliskova's game was on song throughout the tournament. She did not drop a set and lost only 19 games in 5 matches. Mentored by Conchita Martinez, the 1994 Wimbledon winner, Pliskova mixed her flat shot with slices quite effectively. She even charged the net more than the usual and appeared confident through the tournament.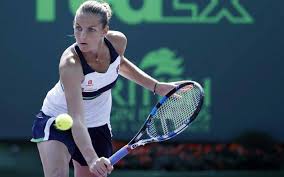 Is Karolina Pliskova a contender at the 2019 Wimbledon?
Pliskova with her booming serve, flat shots and, the recent addition of, effective slices and a better and more frequent net rushing mindset, we believe, is one of the favorites to lift the Wimbledon crown this year.  Her straight set trouncing of KiKi Bertens in the semis and Kerber in the final is an ominous sign for the others.
Ashleigh Barty, apparently, is as good on the grass as on clay.
Ashleigh Barty too did not drop a set en-route to her title at Birmingham and she overcame some seasoned grass-court players to win the event. Donna Vekic has won Nottingham in the past and is a respectable grass-court player, and Venus Williams has five Wimbledon titles to her credit. Barty trounced Vekic 6-3, 6-4 and WIlliams 6-4, 6-3.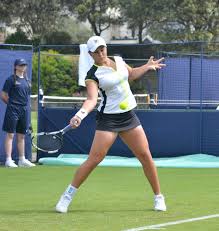 Is Ashleigh Barty a contender at Wimbledon 2019?
Barty's deft and penetrating slices will help her overcome the big hitters at Wimbledon. She is a master at changing the pace and allowing no rhythm to opponents. Her French Open and Birmingham victories make her a serious contender at Wimbledon this year.