What's wrong with Alexander Zverev's game?
Alexander Zverev has not fared well in 2019 and failed to win an event so far. The promise Alexander Zverev showed in 2018 – by taking Novak Djokovic out at the year-end ATP Finals – seems an empty one and in the distant past. Is there any hope for the future-hope of tennis?
Sascha's record in 2019.
Sascha's record has been abysmal in 2019. He is 11-5 for the season and is yet to win an event in 2019.
He lost 1-6, 1-6, 6-7 (5) in the fourth to Milos Raonic at the Australian Open, and 3-6, 4-6 to Nick Kyrgios in the Finals of the HSBC Acapulco, Mexico. Zverev then lost 3-6, 1-6 to the 55 ranked Jan-Lennard Struff in the third round in Indian Wells; and just when the fans thought it couldn't get any worse, Sascha lost his first match to 155 ranked David Ferrer in Miami. Alexander Zverev was then upset in the second round at the Grand Prix Hassan II by Jaume Munar – a 20 years old retriever!
Too many such early exits do not bode well for Alexander Zverev. He must reverse the tide or risk becoming a has-been with a bag full of talent but no slam. Many, like Dimitrov, Tsonga, Gasquet, and others showed similar promise at the start of their careers but faded away in the realm of the very talented who couldn't win a slam.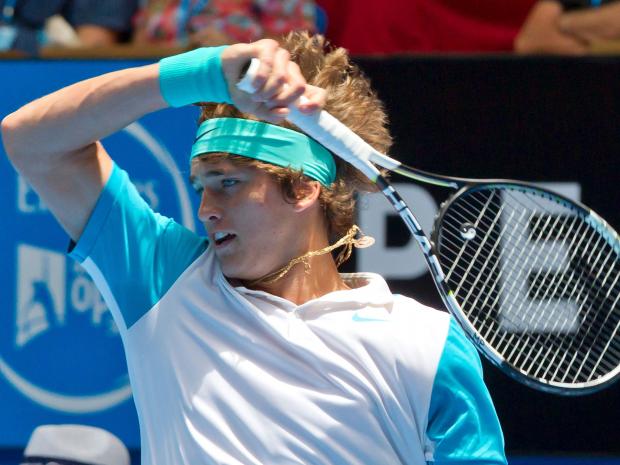 What is wrong with Alexander Zverev's game?
Alexander Zverev is a 6'6" flag-pole with powerful ground shots and booming serve. He is a reasonably good mover for someone above 6'4," which, probably is the reason for his inflated sense in his baseline abilities.
Sascha Zverev sticks at least seven feet behind the baseline and is very comfortable receding 15 feet behind with the slightest of pressure from opponents. Playing so far behind the baseline allows his opponents time to position themselves for his baseline rockets, making Zverev's, otherwise powerful, baseline shots ineffective on the slower hard and clay courts and against retrievers. With the hard courts playing even slower than clay nowadays, Alexander Zverev is setting himself up for recurring failures by playing so far behind the baseline, and not willing to charge the net.
What would be a winning strategy for Alexander Zverev?
Zverev, with his current strategy, would enjoy better results if he could supplement his baseline-power with Nadal or Djokovic like movement and retrieving abilities, but – with his height that may not be possible. Zverev would fare better by playing closer to the baseline and using his easy-power to create opportunities to move forward to end points at the net. Ending points quickly at the net should be employed by Zverev as a regular strategy and not just a once-in-a-while tactic. His easy baseline-power can be very effective in creating opportunities to rush the net and end points early.