The Djokovics resent Federer, and that's not cool
All professionals thrive on accolades and crave fan frenzy, but none seek adulation and recognition more than Novak Djokovic. He is the world number one, and expected to overtake Rafael Nadal and Roger Federer in the slam count. Yet Novak is underappreciated as compared to Rafa and not nearly as appreciated and adored as Roger. The Djokovics, however, must come to terms with that fact. Djokovic's parents, on more than one occasion, spilled their venom against the Maestro. It is beyond certain that the Djokovics resent Federer. They must, however, learn to contain such resentment or at least hold their unflattering comments, on Roger, from the press.  
Rafa's laughable and lopsided winning head-to-head against Roger
Nadal, even with the lopsided winning head-to-head against Roger, understood that he will not be as adored as Federer. Novak should play the same beautiful and poetic brand of tennis as Roger to deserve as much adulation. He must carry the on and off court demeanor of the Maestro to be loved as much. Nadal, on the other hand, is loved for his never say die attitude on the court and his grounded, and non-diva demeanor off it. He has also learnt to look beyond the professional rivalry against Roger and appreciates the completeness and beauty of the Maestro's tennis. And, when Rafa praises Roger it is often stated as a matter of fact and very heartfelt. He is the first to acknowledge that he walloped Roger for so long, because of a tactical advantage and not because of the better overall game.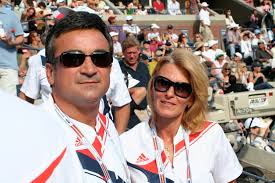 Novak does whatever it takes to win. But so does Sharapova.
Novak Djokovic is a great champion, and the best gladiator of them all. He does not accept defeat and, like Nadal, does whatever it takes to win. But so does Sharapova. Novak and his parents must understand that to be loved unconditionally by the large majority, one must be more than a winner. Good and kind words for others, not blaming others, who helped, when things go sour (as the Djokovics blamed Gregor Dimitrov recently), assuming the blame and responsibility for the bad, and developing other such human attributes will go a long way in being loved and preserving a lasting legacy as a champion.