Novak Djokovic cannot be denied the Western & Southern Open crown
Novak Djokovic managed to survive yet another tough match and emerge a winner against Roberto Bautista Agut. Since his 2019 Wimbledon win against Federer, Novak is officially the Houdini incarnation in tennis. How on earth can one win a match that one lost?!? Only an injury or sickness can prevent Novak from winning the event. We do not see Milos Raonic beat Novak here. Novak Djokovic cannot be denied the 2020 Western & Southern Open crown.
Novak Djokovic cannot be denied the trophy
Djokovic is 22-0 in 2020, and we see no reason for that to not turn 23-0 very soon. He is perfect 10-0 against Milos Raonic and won 8 of those 10 in straight sets. Novak can neutralize the big guns of the Canadian and pin him at the baseline thereafter. There really isn't much Milos can muster against the Serb. We'd be surprised if Milos can take a set against Djokovic in the finals.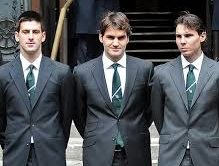 Novak the unappreciated champion
Djokovic's game might not be easy on the eyes like Roger's, he, however, competes more ferociously than the Maestro.
Also read – Can Thiem or Medvedev challenge Djokovic?
The Serb wins matches he should loose and gets balls that he has no business reaching. He is a master at making the impossible very possible on the court. And, yet he is not as appreciated as Roger as well as Rafa. In a universe sans the Maestro, Djokovic would be the undisputed legend of the sport with millions clamoring to see him in action.
When will Novak get the recognition he deserves?
Novak, however, will have the last laugh when he overtakes both Rafa and Roger in the slam count. Perhaps then his talent, albeit not at the same level as Federer's, athleticism, and competitive drive will gain recognition from those high on the Federer cool-aid and blinded by the Maestro's grace and beauty.
Outcome: Novak Djokovic over Milos Raonic in straight.