Can Thiem or Medvedev challenge Djokovic?
The absence of Roger Federer and Rafael Nadal has left a void in the US Open this year. Is there anyone to challenge Novak Djokovic for the title? Can Thiem or Medvedev challenge Djokovic? We believe they both can.
What are Daniil Medevedev's prospects against Djokovic?
Daniil shares a healthy 4-2 record against Djokovic. He took Djokovic down on the hard courts at the 2019 ATP Masters 1000 in Cincinnati. Medvedev has also beaten Djokovic on the clay at the 2019 ATP Masters 1000 in Monte Carlo. Both are relatively recent victories and bode well for Daniil's prospects against the World number one.
Medvedev, however, is susceptible to mental breakdowns and at times meltdown because of untoward incidents or wrong calls by the chair umpire. And, in a slam, while playing a Big Three such meltdowns can turn costly.

Daniil Medvedev moves exceptionally well for a very tall player
Medvedev's forehand is quite unconventional but packed with a powerful punch, and his double-handed backhand is precise and strong. He also moves exceptionally well for a 6'6″ base-liner. His superior lateral movement allows him to cover the baseline well. He defends well from the baseline and plays deep. Daniil's first serve averages around 130mph and he can really bring in the fire and fury with that shot. His ground shots are powerful, flat, and low bouncing, therefore, not too easy to attack from the baseline.
Tsitsipas finds Medvedev's style of tennis very boring
Daniil has been described as a "very complete player" by Novak himself and Zverev went so far to call him "the best player in the world right now!" Tsitsipas, however, finds his way of playing "very boring," and we tend to agree with Tistsipas on that observation. Medvedev, however, makes up for the boring style by his exciting on court personality.
We believe Daniil has a shot against Novak, but give Novak a 52-48 advantage against Daniil in five setters.
Dominic Thiem's chances against Novak Djokovic
Thiem's 7-5 record against Novak is quite good, moreover, he has prevailed in four of their last 6 meetings. Even their last encounter in the Australian Open 2020 was quite close for Novak's comfort. Dominic lost the match in five after leading 2-1 at the start of the fourth. Novak's mental grit helped him win that one. If Dominic could trouble Novak on his favorite Slam surface, he could certainly irritate Novak at the US Open. Thiem's prospect against anyone not called Nadal, however, are always better on the clay than hard courts.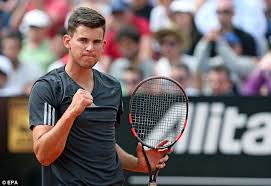 Dominic is a good mover on all surfaces
Thiem is a good mover and a big hitter on the court. His single-handed backhand, though not as versatile as the Maestro's, packs quite a punch. His backhand carries enough topspin to handle the rigors of the clay court. We, at 138mph, feel that he lacks balance on his ground shots. And, relies too much on strength and athleticism like Djokovic, Nadal, Murray, and much of the current crop.
Dominic proved himself on the fast hard surface at the 2019 Nitto ATP Finals
His extended back-swing on the ground shots, we believed, made his game a little less suited for the fast indoor courts as compared to the slow clay. He, however, proved us wrong by winning the year end 2019 Nitto ATP Masters Finals on the fast indoor surface by taking down both Djokovic and Roger en-route to the trophy. Dominic makes up for his shortcomings through his athleticism, speed, and the ability to muscle the ball back into play.
Also read – "Thiem and Nadal at the 2019 French Open."
Like most clay court stalwarts, Thiem too has the tendency to plant himself about 5 feet behind the baseline and avoid the net, like the plague, which invariably results in long drawn out rallies, and leaves him tired and worn out by the business end of the slams. Thiem, however, stood much closer to the baseline than Djokovic, in the 2019 ATP Nitto Finals, and pushed Novak around with 83mph forhands. Djokovic's average forehand speed, on the other hand, was only 73mph.

Thiem enjoys a winning 7-3 record against the Big Three since the start of 2019
The Austrian has won 7 of 10 matches against the Big Three since the start of 2019! He has beaten Novak and Nadal twice and Roger three times since 2019. That itself should provide a major confidence boost to Thiem and strengthen the belief in his abilities to take Novak down at the 2020 US Open.
Thiem does not lack the talent or ability to beat Novak. He certainly is as talented than Djokovic, if not more. Mental strength is the only area where Novak enjoys a clear lead over Dominic. Will Dominic Thiem be mentally prepared to take on Novak Djokovic if they meet at the US Open 2020?
Will Thiem or Medvedev challenge Djokovic at the 2020 US Open?
Both Thiem and Medvedev, we believe, can challenge and even beat Djokovic at the US Open 2020. But, they need to confirm their participation in the event first, and then prepare to be mentally strong for a tiring 5 set battle against Novak Djokovic. Can one of them actually stop Djokovic from winning the 2020 US Open? We will soon find out.