Naomi Osaka against Victoria Azarenka in the Western & Southern Open final
The play stood suspended on Thursday at the Western & Southern Open in New York. Azarenka defeated Konta in three and Osaka overcame the second set resistance from Mertens to win 6-2, 7-6 (5). Naomi Osaka against Victoria Azarenka has the making of a blockbuster final.
Osaka's brave stand was recognized by the organizers
Naomi Osaka's withdrawal from the semifinal over the brutal police shooting of Jacob Blake did not go unnoticed. It sparked further media discussion of the police brutality against blacks in the land of the brave and free. Osaka was willing to forfeit the semifinal to make her point.
"As a black woman I feel as though there are much more important matters at hand that need immediate attention, rather than watching me play tennis," Osaka wrote in English and Japanese on Twitter.
"I don't expect anything drastic to happen with me not playing, but if I can get a conversation started in a majority white sport I consider that a step in the right direction," Osaka tweeted.
"Watching the continued genocide of Black people at the hand of the police is honestly making me sick to my stomach."
"When will it ever be enough?"
The organizers, thereafter, suspended Thursday's play to respect the mood of the moment.
"As a sport, tennis is collectively taking a stance against racial inequality and social injustice that once again has been thrust to the forefront in the United States," the statement from the organizers said.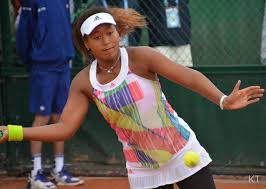 Osaka's prospects in the final
Naomi plays an aggressive baseline game with a powerful forehand and first serve, which can clock 125 mph. And, her forehand touches 100 mph on good days. She enjoys a winning 2-1 record against Victoria. Her wins against Azarenka, however, came on the clay. Their only meeting on the hard courts resulted in a one sided 6-1, 6-1 victory of Victoria. That, however, came to pass in 2016, and before Osaka established herself as a grand slam champion. Much has changed since then, and Naomi today is quite capable of handling Azarenka on the hard courts too.
Victoria Azarenka on a comeback trail
Azarenka won consecutive Australian Open singles titles in 2012 and 2013. She also made the finals of the US Open and, in fact, is the only Belarusian to win a slam in singles.
Victoria, like Osaka, plays an aggressive baseline game but lacks the raw power of Naomi. She, however, takes time away from the opponent by taking the ball early. Like Naomi, Victoria too is prone to unforced errors and double faults. Azarenka is an excellent defensive player, Osaka, on the other hand, appears quite comfortable with long rallies.
Azarenka's career since the 2016 French Open has been quite tumultuous, to say the least. The knee injury at the French Open in 2016 forced her to withdraw from the Wimbledon Championships also. She announced her pregnancy in July 2016 and gave birth to a baby boy in December the same year. The custody battle for her eight-month old son cut short her comeback attempts in August 2017.
Although she won the custody battle for her son in January 2018, it took a while to return to better form. Victoria also played a drastically cut down schedule in 2018 as well as 2019.
Naomi Osaka against Victoria Azarenka. Who will win?
Azarenka is without a title since the announcement of her pregnancy in 2016. She took down Vekic, Garcia, Cornet, Jabeur, and Konta en route to the final and appears hungry for the title. But Naomi will not make it easy for Azarenka. The Naomi Osaka against Victoria Azarenka encounter is tough to call. But we, at considerable risk and quite unwillingly, will go with Azarenka for this one.