Is Andy Murray ready to make a deep run in the 2020 US Open?
Andy Murray performed well in the Western & Southern Open but lost 2-6, 2-6 to the ace bot Milos Raonic. Notwithstanding the poor showing against Milos, Sir Murray took out Tiafoe, as well as Zverev in prior rounds. Did Andy get enough match practice for the US Open? Is Andy Murray ready to make a deep run in the 2020 US Open?
Andy is a bit rusty
Andy is a bit rusty from injury and COVID 19 triggered hiatus. He missed eight of the last 10 slams because of injuries and recurring pain since Wimbledon 2017. He is 33 and eager to enter the ring again.
Also read – Decoding the Big Three and Sir Murray
Murray complained of being slow on the court against Raonic but did not blame hip or other pain for his loss to Milos. "I don't know how much of it was due to the conditions at the beginning or if I was just a little bit slow. I don't know," Murray said. "But I was really not happy with that at all. I have much higher standards than that. Not good enough tonight."
This was Andy's first loss to Raonic since the 2014 BNP Paribas Open. It also ended his 8-match winning streak against the Canadian.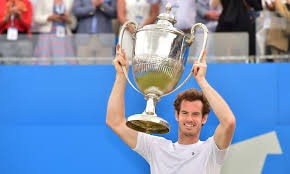 Is Andy Murray ready?
We believe, like Nadal, Andy too thrives on excessive practice and match play. And, he cannot be match tough with just two matches under the belt. So, is Andy Murray ready for the 2020 US Open? Given the conditions and circumstances, however, Andy may be just fine for the US Open. Both Tiafoe and Zverev are quality players and not many can claim such high level match practice in the midst of a pandemic.
Sir Murray, however, must adopt Federer strategy to end points quickly by approaching the net often. He is very good and comfortable at the net and quite sharp at transitioning to the net. Such aggressive play would add a surprise element to his game and also reduce the wear and tear to his reconstructed hip.
We wish him the very best for the 2020 US Open.