Wimbledon week 2- Djokovic, Konta and other day 8 matches
Djokovic vs. Mannarino
Djokovic's match was postponed till Tuesday after Nadal and Muller's prolonged battle, and while nothing was going to live up to that match, Novak's and Adrian's match was more than a let down.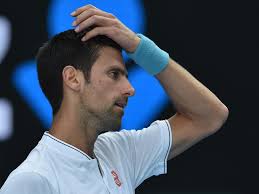 Both players were injured.  Marianno was often seen rubbing his hip and lower back after trying points. Djokovic had a medical time out for a shoulder injury, which he claimed had been bothering him for some time.
Djokovic also seemed extremely annoyed at the state of the court. He would pick up tufts of grass, and even paused to show the umpire a hole in the court near the baseline.
Although Djokovic won in straight sets, 6-2, 7-6 (7-5), 6-4, Djokovic seemed overly critical of his errors. He managed to break early in all three of the sets, but because of his errors and inconsistency of serve, he was often unable to ride the momentum of the break throughout the set, as can be seen by the tiebreaker in the second set.
With Djokovic battling his own mental demons again, it seems like his next match against Tomas Berdych will be a tough one.
Konta vs. Halep
Johanna has been proving her stuff on the courts of Wimbledon this year. She has become the first British woman to reach the semifinal at Wimbledon since 1978.
Konta has been under the radar for a long time, recently making headway in the last year or two, and it is surprising that it took so long for her to reach this level, considering that her game is extremely aggressive, and she is very adept at changing the direction of the ball.
She made use of these strengths in her quarterfinal match against Simona Halep, defeating the Romanian in three tough sets, 6-7 (2-7), 7-6 (7-5), 6-4.
In the first set Konta was unable to dictate her opponent, making too many errors in an effort to hit winners that just weren't there, because Halep was picking up virtually every single ball.
As the second and third set rolled around though, Konta began to move Halep around the court, left and right, from corner to corner, until she would get a short ball, or a high ball. On the high balls Konta would quickly move in and take it as a swing volley.
Konta still made errors, but her winners and aggressive playing style were enough to break Halep and win her the match. In the next round she will face Venus Williams, a tough match for both players.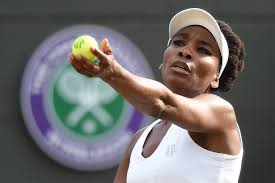 Williams vs. Ostapenko
Venus isn't letting numbers, especially the age number, bring her down this Wimbledon.  As the oldest woman in the tournament she won her 100th singles match at Wimbledon to defeat the young French Open winner, Jelena Ostapenko, in straight sets, 6-3, 7-5.
"She was serving really well. It was very tough to break. Because of that I had more pressure because I had to keep my serve," Ostapenko reflected.
Venus won the match in an hour and 13 minutes, and manages to overpower the Latvian player. With her serves and aggressive game style Venus was able to dictate play against another hard hitter like Ostapenko, proving that Venus is in great form this season.
Although Venus hasn't won a Grand Slam title since 2008, and only recently returned to the top 10 last year after she was diagnosed with Sjogren's syndrome in 2011.  This year she has managed to reach the finals of the Australian Open, as well as perform well at this year's Wimbledon.
"I feel quite capable, to be honest, and powerful," Venus said.
"So whatever age that is, as long as I feel like that, then I know that I can contend for titles every time."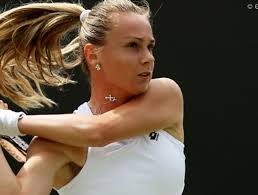 Rybarikova vs. Vandeweghe
The unseeded Rybarikova has been having an amazing run at Wimbledon this year, beating the American Coco Vandeweghe in straight sets, 6-3, 6-3.
After taking a lengthy break due to injury, Rybarikova came into the tournament with two ITF Circuit wins on grass. Rybarikova used a variety of shots to put Coco off balance, preventing the American from gaining any rhythm and getting a good footing on the grass.
Although Rybarikova had only 8 winners and 8 unforced errors, her style of play lured Vandeweghe into making 30 unforced errors. Vandeweghe's serves were also suspect throughout the match, hitting 7 double faults and only hitting 42 percent of her first serves in, giving Rybarikova many chances to break and eventually win the match.
"I was really confident with my strokes today and really felt it good. Sometimes on the warmups you don't feel that well, but today I felt really good," said Rybarikova.
When asked about her upcoming match with Muguruza, Rybarikova said, "She's amazing player. She's going to be favorite. Again, I'm here to enjoy the match. We'll see what's going to happen. I played her a few years ago on grass. I won that match, but Wimbledon semifinal is a little bit different."
Muguruza vs. Kuznetsova
Garbine Muguruza had been having a bit of a lull since she lost in the second round of Wimbledon last year. The former French Open champion had even moved out of the top 10, now ranked 14 in the world, but her recent win over Svetlana Kuznetsova at this year's Wimbledon seems to be turning things around.
Muguruza managed to make quick work of Kuznetsova, defeating her in straight sets 6-3, 6-4, in one hour and 15 minutes. This match will also propel Muguruza back into the top 10.
Muguruza played the important points well, not letting unforced errors get in her way.  She saved all three of the break points that she faced, and managed to convert two of the three break points that she had.
"It means a lot. Especially since that final, and last year losing in second round, to be able to go deep in the tournament still with chances," reflected Muguruza.
"I'm very happy and very pleased also with this match, because obviously Kuznetsova is a very tough opponent. We all know she has been and is a great player. I managed to play a good level during all the match. I earned the victory."
Next up for Muguruza is Rybarikova, a match that may prove to be tough for the Spaniard.
Save
Save
Save
Save