Wimbledon 2018: Men's Quarterfinals Preview and Analysis.
The BIG three are in the quarterfinals at the Wimbledon 2018, and that should silence any talk about the future of tennis. The future is the present and will be as good as the past. Will these three ever allow the younger generation to breakthrough?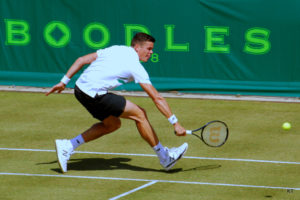 Milos Raonic versus John Isner.
Milos Raonic has reached the finals of this event in the past and is quite capable of doing so again. John Isner, however, with a winning 3-1 head-to-head stands in the way and, in this battle of the skyscrapers, has clocked more aces, at the event this year, than Raonic so far.
This match will showcase how a Wimbledon match should be. The points will be short, and the serves will be tough to break. At least one slam should have favored the aggressive and big hitters, however, the grass at Wimbledon, it seems, plays slower than the Australian Open nowadays and has become the feasting ground for the proverbial dirt-ballers.
John Isner impressed with the way he handled the highly talented Stefanos Tsitsipas in his pre-quarters and is a man on a mission this time around.
Outcome: John Isner in 4.
Roger Federer versus Kevin Anderson.
Roger Federer has not lost a set since his loss to Raonic in 2016, and is 96-11, on the Center Court in Wimbledon. He is in ominous form and not wasting time in dispatching opponents here, this year. A winning 4-0 winning head-to-head over Kevin Anderson will certainly not hurt Federer.
Kevin Anderson has lost a set each to both Seppi and Monfils and will need to be sharper than he has been so far. Will Federer allow him to do so?
Conclusion: Roger Federer in 4.
Juan Martin Del Potro versus Rafael Nadal.
Rafael Nadal has won this event twice and seems eager to win it again. He has not lost a set here, so far, and the higher bounce on the Center Court is playing to his advantage this year. Nadal is serving and returning better on the grass than he has in the recent years. Nadal leads Juan Martin Del Potro 10-5 in their head-to-head.
Juan Martin Del Potro finished a tough four-set duel against Gilles Simon, in the pre-quarters, and may not feel as well rested as Rafael Nadal. That, however, could be inconsequential to the outcome if Del Potro hits as big and serves as well as he can. His game has the potential to blow Nadal out of the court and force him to play ten feet behind the baseline, which may not be effective on the grass.
Conclusion: Juan Martin Del Potro in 4.
Novak Djokovic versus Kei Nishikori.
Novak Djokovic is back and will take on Kei Nishikori in the quarters at Wimbledon. Despite his untimely and surprising exit at the French Open, Novak has been gaining form since the French Open and played better with each passing round at Wimbledon.
Nishikori has also made the Wimbledon quarterfinals for the first time and did well to take Gulbis out in the pre-quarters.
Novak Djokovic is not only 13-2 against Kei Nishikori but also a better grass-court player.
Conclusion: Novak Djokovic in 5.