The ATP's and WTA's movers and shakers for 2018: Juan Martin Del Potro and Garbine Muguruza
There are many stars and a few superstars in the ATP tour, and Juan Martin Del Potro is quite a superstar and much loved.
Will Juan Martin Del Potro be able to carry his winning form into 2018?
Juan Martin Del Potro, the giant giant-slayer, is a threat to the very best on the biggest of stages.
His super-wristy and whiplash of a forehand can give nightmares to the likes of Rafael Nadal and, at his best, force Roger Federer to play five feet behind the baseline.
Del Potro's backhand, prior to the multiple surgeries of the left wrist, was as devastating as his forehand. However, to avoid straining the wrist, he relies more on the sliced-backhand now.
Del Potro's over-dependence on his forehand is not only his strength but also his weakness.
The over-dependence on converting backhands into forehands has made Del Potro dangerous off both sides. However, it has also made it easier for the tactical geniuses, like Federer, Nadal, and Djokovic, to exploit the open court which results invariably from converting the backhand into, an inside-out-or-in, forehand. Juan Martin Del Potro moves surprisingly well for a tall bloke and even manages to execute whiplash-forehand winners on the run. The excessive running and scrambling, however, get him winded by the third set of the later rounds in a tournament.
Juan Martin Del Potro's 2017 improved after the US Open.
Juan Martin Del Potro enjoyed a solid 2017 season in which he finished eleventh in the ATP rankings, with a win-loss ratio of 38-16 and a title to his credit.
Juan Martin Del Potro's highest ranking was 4 in 2010, and he won his first and only major in 2009. His encounters against Roger Federer provided much of the excitement in 2017. Although his 2017 win-loss ratio was 1-3 against Roger Federer, 0-3 against Novak Djokovic, 0-1 against Rafael Nadal, 1-2 against Grigor Dimitrov, and 0-1 against Dennis Shapovalov, his performance improved after his US Open semi-final loss to Rafael Nadal, and he finished the season with a 15-4 win-loss record after the US Open.
What can we expect of Juan Martin in 2018?
Juan Martin is now match-tough for 2018, with enough losses under his belt and some major scalp to his credit. If Juan Martin Del Potro's wrist holds then he could turn into a spoilsport for the likes of Roger Federer, Rafael Nadal, Andy Murray and Novak Djokovic in 2018.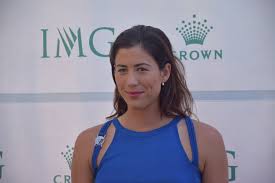 Garbine Muguruza won the Wimbledon in 2017.
Garbine Muguruza finished the year ranked 2 in the world, and with a win-loss ratio of 47-21. Her performance at the year-end WTA Finals, in which she suffered straight-set losses to Karolina Pliskova and Venus Williams, was disappointing. Muguruza won two tournaments in 2017, and one of those was the Wimbledon.
Inconsistencies and double-faults prevent Muguruza from winning many more titles.
Garbine Muguruza uses her 6 feet frame efficiently to generate serious power off both the sides and on serve. She is also a good returner of service and won over 38% first-serve and 57% second-serve returns in 2017. However, she hits slightly flat and hard and is, therefore, prone to unforced errors. Surprisingly enough, her double-faults count is quite high, and the ace-to-double fault ratio was an astonishing 180-164 for the year!
Garbine Muguruza, when at her best, is capable of beating anyone and winning any tournament. However, those high-quality days when her game is on a song are rare, and probably the reason that she has won only five titles in nine years as a pro.
The grinders and retrievers have a field day when Muguruza makes too many unforced.
The lack of consistency has been a major setback in Garbine Muguruza's quest for true greatness. She must learn to cut down those unforced errors if she is to dominate the retrievers and grinders like Caroline Wozniacki.
It will not be a stretch to peg Garbie Muguruza as a contender in slams and a few other titles in 2018.