The ATP's and WTA's movers and shakers for 2018: Novak Djokovic and Simona Halep
The part one of this series covered Nadal's, Serena's and the Maestro's prospects in 2018. At its highest levels in tennis, these three are the premier names in the game and had also made a considerable impact on it by winning at least one slam in 2017.
The ATP's and WTA's top guns.
The next rung of the ATP's hierarchy includes Novak Djokovic, who had an unsuccessful 2017 but has won twelve slams in his career and is a threat at all levels, and in any tournament that he plays.
Aside from Serena, the competition at the WTA is too tight to narrow down a clear favorite, capable of rocking the tour in 2018. Halep's prospects, as the reigning number one would, therefore, be as good as any other player's.
How will Novak Djokovic fare upon his return?
A lot is expected of Novak Djokovic upon his return, in 2018. Novak missed quite a bit of the 2017 season, and was absent after the Wimbledon, due to a persistent elbow injury.
Novak Djokovic's 2017.
Novak Djokovic began his 2017 season with a bang at Doha, Qatar and beat Andy Murray for an early title, in January. He then lost momentum and also his second-round against Dennis Istomin, at the Australian Open. Djokovic then went on to lose two consecutive encounters to Nick Kyrgios on the hard courts and was also beaten by David Goffin, Rafael Nadal, and Alexander Zverev, on the clay, prior to his French Open loss to Dominic Thiem, in which Novak Djokovic was also bageled in the third set.
His second title for the year came on the grass over Gael Monfils at the Eastbourne International in early July. However, he couldn't carry the momentum further and retired, while down  6-7 (2), and 0-2, against Tomas Berdych, at the Wimbledon.
Djokovic's coaching situation could play an important part in 2018.
The coaching arrangement with Andre Agassi is not yet full-time. Moreover, we are not convinced of the benefits of an arrangement between two players with the same stick-to-the-baseline mentality. Djokovic must become better at approaching the net to stay competitive after thirty, and even Boris Becker, the net rusher, failed to fill that hole in Novak's game.
The rumor mill is abuzz of a tie-up with Radek Stepanek, as his full-time coach, but the impact of this new relationship, with another net rusher, is yet to be seen.
What can we expect of Novak Djokovic in 2018?
Novak Djokovic has not been playing his best tennis since his French Open victory in 2016. The drop in his level can be attributed as much to mental issues as physical injuries. The mental issues can be quite stubborn and impossible to let go sometimes. Novak, however, is a champion and he will be a contender at any tournament he plays, and like Roger Federer and Rafael Nadal, he'd also be the man to beat in 2018.
Will Novak Djokovic's return in 2018 be as successful as Nadal's and Federer's comeback in 2017?
The Novak fan base expects his return to be as stellar as Rafael Nadal's and Roger Federer's 2017-comeback. That may have been possible had the ATP tour been a fairy tale concocted by one of Djokovic's fans.
Novak Djokovic lacks an absolute weapon, and the return of serve doesn't classify as an absolute weapon because it depends predominantly on the server and quality of service. Moreover, the backhand's dependency on the non-dominant foot for power doesn't allow it to be as powerful a weapon as the forehand unless that backhand belongs to Stan Wawrinka, who uses his powerful upper body to generate the pace behind the shot.
Good footwork is not in itself a weapon. It can, however, assist in the timely and proper execution of a killer forehand, 138 mph serve, and Stan's backhand. It'd still be foolish to write off Djokovic and he could reach the final of a slam in 2018.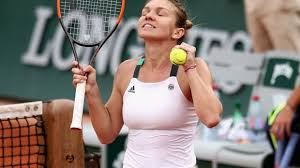 Will Simona Halep be able to retrieve and grind her way to a slam win in 2018?
Simona Halep is quintessentially a retriever and grinder who loves to throw in a few moon-balls when in trouble, and sometimes even when not.
The slam winners of the women's tour, however, are predominantly power hitters and hit a fierce ball. Serena Williams won the Australian Open, in 2017, and she is not a grinder. Neither is Jelena Ostapenko, who bashes the ball mercilessly from both sides and won the French Open. Even Garbine Muguruza, the Wimbledon champion, is far from a grinder or retriever and hits the ball flatter than even Serena, who herself hits aggressive topspin.
Simona has a steady game but lacks power and aggression.
Simona is a steady player whose game is built around minimizing her own errors while frustrating the opponent into making tons of those. But, against the power hitters who can hit right through her, she usually sinks. Simona won only one event in 2017 and still finished as the top ranking player, in the WTA. It is a testament to Simona's ability to win the initial but falters in the later rounds against the heavy hitters or the quick movers. Moreover, her incessant grinding and retrieving in the earlier rounds makes her too tired to give her very best in the later.
Could Simona Halep win the French Open in 2018?
Simona Halep could find it tough to win a slam in 2018, and her best chance at winning one would be the French Open. The possibility of seeing Simona ranked outside the top five is quite realistic, and it'd be a major miracle if she is ranked one at the end of 2018.