Tennis: Will Del Potro take out Rafa Nadal? Paris Masters semifinals revealed.
We understand how brutal the draw has been for the marquee players, as we head into the semifinals at the Paris Masters.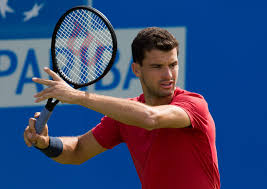 Expect fireworks if Grigor Dimitrov meets Juan Martin Del Potro
Juan Martin Del Potro will face Robin Haase, who took out Alexander Zverev earlier, and Grigor Dimitrov will need to get past the serve bot Isner before he can secure his meeting with Juan Martin. Haase hasn't  taken a set off Del Potro since the 2012 Wimbledon, and Juan Martin will be too much for Robin Haase to handle at this juncture.
John Isner beat Grigor Dimitrov in two closely contested tie-breakers recently, the outcome may again be decided by tie-breaks here. As a reward for beating John Isner, Dimitrov may get to meet Del Potro in the quarters.
We expect some fireworks if Grigor Dimitrov and Juan Martin Del Potro meet in the quarterfinals.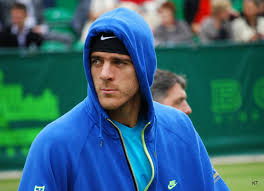 Will it be Del Potro or Rafael Nadal?
Now that Rafael Nadal has already secured the year-end number one, he'll be a little more relaxed, which could be a double-edged sword and cut both ways. It could make him play with unbridled abandon and wipe the tour clean with the dismantling of anyone that crosses his path, or it could make him less inclined to put in the intense focus and grind which his style of tennis requires for producing the very best. Next, Nadal plays Pablo Cuevas who he leads 3-1. The only hard court match they've played so far was won by Nadal.
Nadal should also be able to manage his quarterfinal, but the possible semifinal could be his last match of this tournament. Grigor Dimitrov has stretched Nadal to three or more sets in 8 of 11 meetings and is due for a win against Nadal. Whereas, Del Potro is not only in great form, but has also beaten Nadal 5 out of the 14 times they have played.
Juan Martin Del Potro is on a mission to make the World Tour Finals and, if he can get past Dimitrov or Isner in the quarterfinal, has the goods and the form to beat Rafael Nadal.
Semifinal outcome: Juan Martin Del Potro over Rafael Nadal in three sets.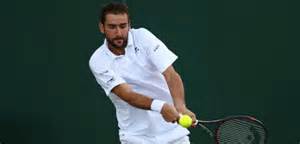 Marin Cilic and David Goffin headed for a Quarterfinal collision
David Goffin is lined up to play Julien Benneteau today, and they are evenly split 1-1 in head-to-head against each other. The last one, however, was won by Goffin at the US Open in 2017.
David Goffin is in good form and should win to meet Marin Cilic in the quarterfinal. Cilic should be able to get past Bautista Agut who he beat at Wimbledon this year and leads 3-1.  Although David Goffin leads Marin Cilic 4-2, the last two, however, were won by Cilic, and we'd give Cilic a slight edge in this meeting.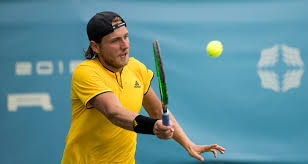 Is Lucas Pouille ready to make his big move?
The other quarter, in the bottom half, should be fought between Dominic Thiem and Lucas Pouille, as long as both can win their next matches against Fernando Verdasco and Jack Sock, respectively. Thiem and Verdasco have never met before, and Thiem has been going through a bad patch since the US Open this year. However, he is adamant on turning things around and should get the better of Fernando Verdasco here.
Lucas Pouille is in great form and beat Joe Tsonga for the Vienna title last week. We expect his run to continue at least until the semis, and perhaps the finals, here.
Semifinal outcome: Lucas Pouille over Marin Cilic in three sets.
Save
Save