Tennis: Why the Australian Open final between Federer and Cilic could be more competitive than between Federer and Nadal in 2018?
The fans would have preferred a Rafael Nadal versus Roger Federer blockbuster again this year, but they will get to watch a Roger Federer versus Marin Cilic 2018 Australian Open final instead.
Why isn't a Rafael Nadal versus Roger Federer as exciting anymore?
What made the matchup exciting earlier was Roger Federer's inability to find a solution to Rafael Nadal's lethal topspin to his single-handed backhand. Nadal's ability to wear down the GOAT with a continuous barrage of spinning balls to Federer's backhand was thrilling to watch. Even if Roger was a set and a breakup, one could still bet on a Nadal victory, and more often than not, Federer would oblige. The matchup was also exciting because many, including I, wanted to see if Roger would ever solve the problem called Rafael Nadal.
In 2017, after a six month injury time off, Roger Federer laid the Rafael Nadal demon to rest for good. Roger Federer's retooled backhand and the larger racket-head blunted the only advantage that Rafael Nadal had on him. Nadal has no other weapon that could bring Roger down. Much like the last three meetings between these two a rematch, on the slightly faster courts of the Australian Open, would result in a straight set beatdown of Rafael Nadal.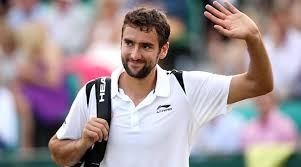 Why is a Marin Cilic versus Roger Federer more promising?
Nowadays, the only way to take down a fresh and fit Roger Federer is to bulldoze through him with heavy flat shots, and Marin Cilic, like Juan Martin Del Potro, is quite capable of hitting those flat bombs. However, Cilic will still need to play at 100% and pray for Federer to have a bad day at the office. Marin Cilic has played some inspired tennis so far and has gained confidence from his win over Rafael Nadal. However, Rafa's high rising top-spin are in the hitting zone of a dialed in Cilic, and Cilic has been very dialed in lately. Roger Federer still holds considerable advantage and in the end, it'll boil down to Roger Federer having a bad day at the office
There's still the possibility that the 2018 Australian Open's final could be a complete dud like the Wimbledon final last year. However, a Federer versus Cilic, on paper, holds more promise and should be more competitive and entertaining than a Nadal versus Federer.
Winner: Roger Federer in 4 sets