Tennis: What are the realistic prospects of Gael Monfils winning a slam?
Thirty-one years old Gael Sebastien Monfils wants to win a slam. Does he have it in him to win one?
Gael Monfils has set himself the goal of winning a slam.
Gael Monfils had reached the French Open semifinals in 2008, and he believes it may be the surface most suited for his slam pursuit. "My goal is still to win a Slam, you know," Monfils said. "I'm working for that and I'm ready to die for that, and if it can be the French, it would be even better," he continued.
He has been quite unabashed in declaring his strong desire for a slam and is willing to begin his clay court preparation, for the French Open, right in the midst of the hard court season, in February. He intends to dedicate 2018 to his French Open pursuit and is willing to leave no stone un-turned in that endeavor. "Next year I will play more on the clay courts," Monfils added. "I might focus more on that both for my body and for my game," he continued. "I've never put the clay court season in February as a goal, but I think this year I can, we want to play earlier on clay, to be fitter and ready for the long season in Europe," Monfils explained.
Evaluating Gael Monfils' chances of winning a slam.
The 138mph Evaluation Grid – All scores below are out of 10, with 10 being the highest score.
| | | | | | | | |
| --- | --- | --- | --- | --- | --- | --- | --- |
| | Talent | Mental | Weapons | Movement & Speed | Intangibles |  Mindset | Future beyond 30 |
| Gael Monfils | 7.5 | 7 | —– | 9.25 | 6.75 | Aggressive Counter punching from ten feet behind the baseline | Must change mindset to shorten points and play closer to the baseline |
What are the realistic prospects of Monfils winning a slam?
The 138mph evaluation grid indicates that Monfils possesses some of the skills necessary to win slams, but there are others which he'd need to cultivate pronto as time, at 31, is running out for him.
Those familiar with the use of the 138mph grid to evaluate and compare the big four will notice that Monfils has been given as many points in the talent category as Rafael Nadal and scores more than Nadal in the intangibles, and movement & speed categories.
Gael Monfils has twice reached the semifinals in slams. He can make that big leap into the finals and then, as we all know, anything can happen.
Gael Monfils, like Novak Djokovic and Andy Murray, has no major weapons, like Karlovic's serve or Nadal's forehand, but his ground shots and serves are powerful enough to beat the very best. Gael is also super fast on the court and can reach balls which even Djokovic may find difficult to get. He has the ability to turn a defensive situation into an offensive one but rarely showcases that talent. Monfils is also capable of generating sudden pace and power behind his ground shots out of nothing, and from nowhere.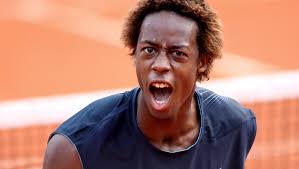 What Gael Monfils needs to improve quickly.
However, Monfils lags miserably in the Mental category and, without the mental discipline, he may not be able to change his mindset, which is a prerequisite to stand a chance at the big ones.
Gael Monfils also has the tendency to stay about ten feet behind the baseline and showcase his athletic and acrobatic abilities instead of structured, disciplined, and purposeful tennis.
Few will deny that Monfils is a talented bloke, however, 99.95% of his talent, we believe, is wasted in showcasing his athletic abilities.
The winning formula for Monfils.
Monfils must contain the urge to execute impossible gets, cart-wheels, and triple somersaults on the court. He needs to play a disciplined and strategic game bordering on the side of aggressive while staying within three feet of the baseline, at all times.
It may also serve Gael Monfils well to hire the services of a tough, no-nonsense coach who will help him cut back on silly shenanigans and childish whims and compel him to stick to the path of disciplined and purposeful tennis.