Tennis: Roger Federer wins his 18th grass-court title with a win over Milos Raonic at the Mercedes Cup in Stuttgart.
Roger Federer was the favorite to win the Mercedes Cup in Stuttgart after his nail-biting semi-final victory over Nick Kyrgios, and he did not disappoint. Federer dispatched Milos Raonic 6-4, 7-6 (3) for his 18th grass-court and 98th overall title.
Roger Federer's game is tailor-made for the grass.
Roger Federer, who will turn 37 in August, doesn't appear to be stopping anytime soon. He not only beat a net-rusher but also two big-servers en-route to the title. Roger Federer's controlled aggression is tailor-made for the grass, where his single-handed backhand is also at its creative and devastating best.
Roger was happy upon winning his first tournament after return from a three months sabbatical. "I think I played very well not having played for a while."
Federer felt he played better on the big points.
Federer beat Raonic for the eleventh time in fourteen meetings and felt he was better than his opponent on the big points. "Maybe I was a bit better on the big points," he said.
The first set was dominated by the Swiss, and he broke Raonic twice to earn the first in 32 minutes with an error from Milos Raonic. The second set, however, was close and without any breaks from either player. Federer raced to 5-3 in the tie-break after a double-fault by Milos. He then hit a and a return winner on Milos Raonic's serve and won the set and match on the next point on his.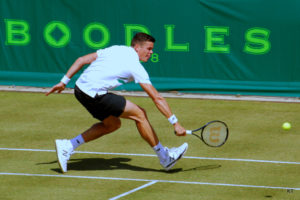 Third-time luck in Stuttgart, Roger will now attempt to win his 10th in Halle.
Roger Federer won at Stuttgart in his third attempt, he lost the semi-finals to Dominic Thiem in 2016, and the opening round to Tommy Hass, last year. Federer is now 21-2 and has won 3 titles for the year so far.
Federer is headed to Halle as world number one and will seek, a record, the 10th title there. Roger will also be attempting to win a record 9th Wimbledon this year and will be one of the favorites there after his Stuttgart win today.