Tennis: Goffin's, Kyrgios', Zverev's, Thiem's, and Shapovalov's slam prospects revealed.
While others expound the prospects of either Marin Cilic or Grigor Dimitrov winning a slam this year, we and, the undisputed GOAT, Rod Laver, believe that the changing of the guard is imminent.
There are other contenders for the slams.
There are other contenders who could disrupt the status quo and snatch one, or more, of the slams from the greedy big three. Therefore, we believe, the right question would be to ask if the tennis world is ready for a slam winner not named Federer, Nadal, Djokovic, Murray, or Wawrinka. The most probable contender for the slam crown beside the usual suspects, we believe, would be Dominic Thiem on the clay, David Goffin, Nick Kyrgios, Alexander Zverev, and the yet to mature Dennis Shapovalov. Where do these contenders rank on the highly revealing 138mph Measuring Scale?

We believe it is highly risky to rank these unproven players as neither of them has reached a slam final. Moreover, Dennis Shapovalov's game has yet to evolve. However, someone has got to do it. Below we have also reproduced, for your comparison, the 138mph Ranking Matrix for the big three and Murray.

What is "tennis talent?"
Talent is a prerequisite to be ranked in the top twenty. However, the 138mph matrix is a comparative scale with Roger Federer as its benchmark for "tennis talent." Tennis talent, in its purest form, is bereft of the ability to contort, perform perfect splits on the court, run forever from one corner of baseline to another, muscle the ball from out of balance positions for winners, and be super athletic. Those other skills can be exploited to maximize tennis talent but should not be misconstrued for it. What is tennis talent? In an unadulterated form, it is not only the timing but also ability and skill to take the ball early, maintain balance and poise while executing ground shots, re-invent and adapt to the changing times, age, technological advances, surface speeds, and, most importantly, make the game appear easy enough for those who have not played it.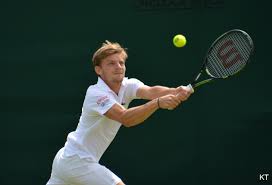 David Goffin's talent.
David Goffin is a talented player, probably as talented as Nick Kyrgios if you add six more inches to his height. His ground shots are driven by timing and he can play ultra aggressive. David Goffin, like Roger Federer, can take the ball extremely early to take time away from his opponents. He, however, cannot sustain the aggressive avatar over three, much less five, sets. Those who have played competitive sports also know that it takes considerably more energy to play aggressively, and a defensive style can be sustained over a longer period of time. If David Goffin was six feet or more tall, or stronger built, we might have seen better results from him. We feel Goffin will always fall short of winning the big one because of his size, and the lack of power, and weapons.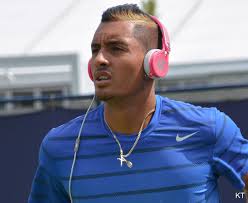 How talented is Nick Kyrgios?
Nick Kyrgios is second to only Dennis Shapovalov in the talent department. His talent quotient is higher than Novak Djokovic's, Rafael Nadal's and Andy Murray's. However, his lack of focus and commitment has held him back from harnessing and honing his talent to win slams. Moreover, there is also a distinct lack of purposeful patterns to his game. He is highly athletic and possesses the explosiveness required to make good on his talent. However, we wait anxiously for those promised results and suspect that Nick Kyrgios might never fulfill his potential because of the lack of discipline to mine his god given talent.
Alex Zverev's potential based on his tennis talent.
Alexander Zverev's talent is workmanlike, but he has the discipline to hit the right shot at the right time, and he has developed a few winning patterns as well. The younger of the Zverevs is like a fish out of water at the net and he abhors making the trip there. His height and power have helped him develop a nasty serve. However, like Novak Djokovic, his inability to approach the net to finish points makes him less versatile and talented than Nick Kyrgios and Dennis Shapovalov. He is still powerful and talented enough to get the shot at a few slams, but we'd be pleasantly surprised if he won more than a couple.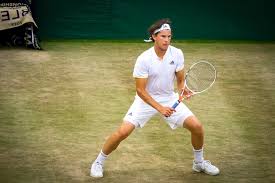 Will Dominic Thiem's talent see him through at least one slam?
Dominic Thiem would be ranked higher in the talent department if it wasn't for his predilection for ball bashing from the baseline. To wield a one-handed backhand at that level is itself a mark of real talent. The single-handed backhand is a marvel of timing, and timing, as compared to muscling the ball, lies at the core of pure tennis talent. He is reasonably competent at approaching the net and executing volleys to shorten points but chooses to prolong rallies from the baseline. He is twenty-four and the time to have harnessed his talent for a slam is fast running out. If he continues in the similar fashion, he risks being relegated to a one-dimensional baseline grinder. However, he has a reasonable shot at winning the French Open upon Rafa's exit.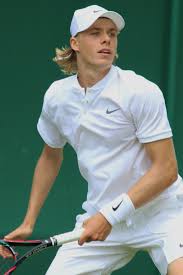 Dennis Shapovalov has what it takes, but it is too soon to tell.
Dennis Shapovalov, we believe, is the most promising of the lot. He is the biggest talent to emerge after Roger Federer. However, talent is just one of the many ingredients, albeit the most important one, and it must be accompanied by other equally important attributes such as mental strength, weapons, movement and speed for success and longevity. He is too much of a neophyte and lacks history for a serious analysis. However, based on what we have seen, we are willing to proclaim him the second, albeit the poor man's, coming of Roger Federer. The rest will depend on his continued evolution as a player and the work and effort he is willing to expend in honing and exploiting his talent.