Tennis: Day 1 at the Wimbledon Championship.
The best turned out on the first day of the tournament to begin their Wimbledon campaigns on the hallowed grounds of Wimbledon. Barring a few upsets, the seeds and the usual suspects, in general, moved ahead in the next round.
Serena Williams's first day at Wimbledon.
Serena Williams avoided a third-set dogfight with Arantxa Rus and came back from 1-3 and 0-30 down in the second to win 7-5, 6-3. Serena's shots were not crisp, and she looked out of sorts while making some routine plays. She was distracted by the windy conditions on court one.
"I haven't played in wind in a really long time, so I'm not used to that yet. And it was really-windy for me today. Something I would normally be ok with. So, it's all just kinda getting back to the hang of things and used to different circumstances. At the time I wasn't happy but looking back I was glad I had the wind so in the future I will be able to play a little bit better."
Arantxa Rus could have won the match, but Serena, as she had so many times in the past, simply willed it her way. Unless Serena Williams takes it up a few levels, we do not see her reaching the finals this year.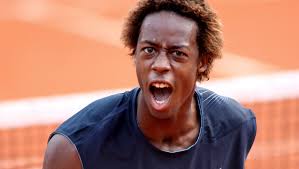 Gael Monfils hits a 150 MPH serve which was later declared 135 MPH, at 138MPH?
Weirdest of incidents happen with Gael Monfils on the court, and there is never a dull moment with this dude around. Our man, le Monf, recorded a 150 MPH serve on the speed gun which was later declared 135 MPH because of an error with the speed radar being employed. The previously clocked 148 MPH record, held by Taylor Dent, had been shattered had Monfils' 150 MPH been cleared by the powers that may be. Gael, however, was inspired by the incorrect speed gun recording and went on to upset Richard Gasquet 7-6, 7-5, 6-4.
Stan, the Man, Wawrinka upset Grigor Dimitrov.
On paper, Stan Wawrinka, ranked 224, upset Grigor Dimitrov, ranked 6 in the ATP. Tennis fans, however, know it is not much of an upset. Wawrinka holds three slams and has beaten the big three on the big stage many times. He wields a heavy forehand, killer backhand, and big serve to push the best behind the baseline.
He can manhandle Federer, Nadal, and Djokovic, put together on the other side of the net, with just his backhand alone. This Swiss, late bloomer, is the real deal and can beat anyone on his day. There were, however, a couple of things against Stan Wawrinka this time. Not only is Wawrinka 2-4 against Grigor Dimitrov, but also coming back from a knee surgery which threatened to end his career. Wawrinka, however, survived all those and more to see the second round at Wimbledon this year.
Donna Vekic takes out Sloane Stephens for the biggest first-round upset this Wimbledon.
Sloane Stephens, a finalist at the French Open this year, was unceremoniously shown the door out by, the 55 ranked, Donna Vekic. Donna has had a below average 2018 with an 18-16 win-loss ratio for the year, she, however, is quite good on the grass and won Nottingham, by beating Johanna Konta in the finals, in 2017.
THE Federer opens with a win in his new Uniqlo attire.
Roger Federer beat Dusan Lajovic 6-1, 6-3, 6-4 to begin his campaign for the 9th Wimbledon crown, and also featured his new Uniqlo attire for the first time. Uniqlo is an established name but nowhere as prominent as Nike, Reebok, and Adidas and the $300 million deal with Roger Federer, we believe, will do wonders for the brand.
Roger Federer also recorded his 103rd match which is the most ever played by a man at Wimbledon.