Roger and Venus in Wimbledon finals
Roger into the finals
Roger Federer defeated Tomas Berdych in straight sets to reach the finals of this year's Wimbledon, 7-6 (7-4), 7-6 (7-4), 6-4. This will be the 11th Wimbledon final he has reached throughout the course of his career.
Although Roger had defeated Berdych 18 times before, this match was in no a way a cake walk. Berdych forced Federer to work for and earn his 29th Grand Slam final. Throughout the match Berdych continued to apply pressure, noticeable from the way he only allowed Roger to break his serve two times, and managed to break Roger once.
In a two hour and 18 minute contest, Roger managed to hit 53 winners to Berdych's 31. Federer had to play some high risk tennis to keep control over the match, and even then Berdych managed to push Roger to an edge where Roger would end up mishitting some balls and even hitting a few silly shots in an attempt to win the point.
There was an instance where Federer rushed in too late for a swing volley, ended up taking the ball as a half volley, and then lost the point. There was also a time where Roger tried to hit a drop shot from the baseline but it didn't even cross the net.  Roger's tactic was to take the ball extremely early. He took a lot of half volleys and took time away from his opponent.
Cilic may give Roger a hard time
Luckily, his high risk game worked well and he will be facing Marin Cilic in the finals.
"Last time we had a brutal match – I was two sets down. I had to get lucky to win," reflected Roger.
"Marin is a great guy. He's a lovely guy, in his first Wimbledon final.
"He crushed me at the US Open a few years ago – I hope he doesn't play that good."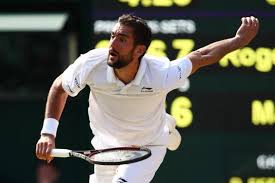 Cilic v/s Querrey
Marin Cilic managed to make it past a tough match against America's Sam Querrey, 6-7 (6-8), 6-4, 7-6 (7-3), 7-5. This will be Cilic's second Grand Slam final, after his 2014 US Open win.
The last time the two met at Wimbledon they had an epic match which finished with Cilic winning 17-15 in the fifth set. This year's match was very similar, except for the fact that Cilic was able to win a lot more points on return of serve.
In fact, Cilic had a total of 14 break point opportunities, and even though he only managed to convert 4 of them, that is still quite a lot for two big servers. Cilic would end up winning twice the amount of points on serve than Querrey, which would really set up the match for Cilic.
In the fourth set, Cilic at 6-5 manged to set up two set points, he would not miss his opportunity to convert on the second, hitting a sizzling forehand winner.
"It's unbelievable," said a content Cilic when asked how he feels to be in another Grand Slam final.
"The way this tournament has unfolded I've been playing really great tennis."
Venus and Garbine are ready to compete
With Venus and Muguruza meeting in the finals, this is sure to be a high intensity match. Both players have experience on the big stages and will know how to handle the pressure, enabling them to play their best tennis.
Even though there have been a lot of questions around Venus' ability to perform after prolonged illness, as well as her age, Venus prefers to not think about such things and just focus on her tennis and abilities.
""I don't think about my age. It is not a factor," says Williams.
With the way Venus has been playing she has an extremely high chance of defeating Muguruza. Her serves are on point, her movement is definitely better than it has been before, and the grass is only enhancing her aggressive game and tendencies.
Muguruza is very confident as well though, and will not give up the match without giving it her all.
"My mind is more equipped this time," says Muguruza.
"The more experience you get, the more you know how to deal with these situations, because they're very special."
"If you felt it before, it's really helpful. So I have more information about the situation."
Be ready for some great tennis at this year's women's Wimbledon final.
Save
Save
Save
Save
Save
Save
Save
Save
Save
Save
Save
Save