Pliskova and Halep Advance to the Semifinals
With all women's quarterfinals completed we now have our four women's semifinalist. The two newest additions to the group are Pliskova and Halep, who have worked their way to the semifinals.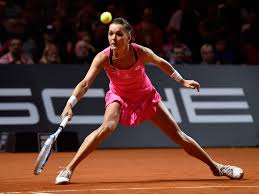 S. Halep vs E. Svitolina
Halep seems to be on a redemption streak this French Open. In an epic comeback and victory, Simona came back from 6-3, 5-1 down to triumph over Elina Svitolina and reach the semi-finals of Roland Garros for the second time in her career.
Halep's newfound fighting spirit seems to be a result of Simona's temporary split with coach Darren Cahill. After Halep's loss in Miami to Johanna Konta 3-6, 7-6 (6), 6-2, coach Cahill decided to stop coaching Halep because he was not just unhappy with her performance,  but unhappy with the mentality that Halep was showing on court.
Halep however, says she worked hard to win back her coach, reaching the semis at Stuttgart, winning Madrid, and reaching the final at Rome. "But just with my attitude. I knew that is the only one thing that I have to change to have him back. So I work hard, and I changed."
This was evident in Simona's heart filled playing and comeback. Throughout the course of the first two sets it seemed as if this was going to be an extremely one sided affair, a match up and outcome that no one was expecting. Although Svitolina had defeated Halep in Rome, no one expected Svitolina to dominate so completely.
After being broken in the opening game of the second set Halep seemed unable to find any chink in Elina's armor. Svitolina continued to dominate like she did throughout the first set, using her pace to dictate, and things seemed bleak for Halep, at least until 5-1. It was then that Halep decided to prove to coach Cahill that she was a true fighter.
Svitolina was unable to close out the match on her serve. Twice. Halep had raised her level and the shift in momentum was palpable as the crowds chanted Simona's name. Svitolina managed to save four set points on her serve at 5-6, and had a match point at 6-5 in the tiebreaker to close out the match.
Simona however refused to back down and have the match taken away from her so easily after she had fought so hard. She saved the match point, hit a backhand winner in the open court and would go on to win the set by the grace of a net cord winner. Lady Luck had chosen a side.
That shift of momentum, and the finality of it once Simona had won the second set, broke Svitolina as she busied herself with the thoughts of what could have been and the lead that she had just lost. Halep was on autopilot from then on. Svitolina was a broken version of her usual self, giving Halep a lead of 5-0 in a manner that obviously lacked luster.
With a backhand error from Svitolina, Halep was the winner of a long and hard fought two hour and six minute match that she gracefully closed with an ace, winning 3-6, 7 (8)-6, 6-0. What awaits Halep in the semifinals it Karolina Pliskova, which will prove to be an interesting match as both fight for a chance to claim the world number 1 ranking.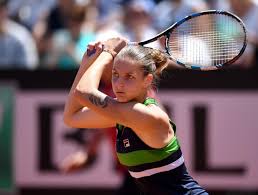 C. Garcia vs K. Pliskova
Karolina Pliskova marched through her quarterfinal match against France's Caroline Garcia, winning 7-6 (3), 6-4, earning her a spot in the semifinals, her first semifinal at the French Open. In fact, if Pliskova is able to reach the final, she will be able to clinch the world number one ranking.
Pliskova was never good on clay, her best performance at the French being a second round exit. "Before this tournament I was still struggling on clay. I didn't have my weapons on my side and the movement was terrible. I don't think it's better but somehow I'm winning. Today I can finally say I felt a little bit better on the court," said Pliskova after her win. Pliskova also went on to talk about how patience has helped her get through her early losses at Grand Slams, enabling her to come back each year and finally reach a semifinal as she has just done.
"Nothing comes easy. Maybe some players who play a first Grand Slam in their life can go far. But with me it's just different. So I have to first play a Grand Slam a few times and then I can go far. I'm just happy that I am here now."
In the first game of the match Garcia hit an amazing forehand winner that seemed as if it would set the tone for the match. However Pliskova soon broke Garcia with a dazzling forehand cross court passing shot, going up 2-1. Although the crows was screaming Garcia's name, Pliskova remained unfazed and went up 4-3, and faced a tough game in which she was almost broken, but was able to pull through using a swing volley.
Garcia saved a set point in the next game, forcing Pliskova to serve for the set, but a net cord gave Garcia the break point which Pliskova all but gave in the form of a wayward volley. Garcia made it 5-5 with the use of an accurate forehand.
Garcia would save three more break points and take it to a tiebreak, but Pliskova would fall back and rely on her service to win the tiebreak 7-3 in 73 minutes.
Garcia tried hard to break back at 1-1 in the second set using all of her power, but Pliskova would bite back with a down the line forehand winner.
From then on, Pliskova seemed to be in control, and at 5-4 Garcia seemed to be out of steam and out of hope. Pliskova would go up 0-30, only amplifying the pressure on Garcia. She would win the next point with a lob, making it 40-0, and would finally go on to take the match with a whizzing forehand winner.
Her next task will be to take on the Romanian Simona Halep, the finalist at Roland Garros in 2014, who has been performing outstandingly well, and showing some serious grit on court.