Nadal in a tough draw, while Federer and Djokovic have it easy at Wimbledon 2019
Rafael Nadal got his wish and escaped a possible semi-final against Novak Djokovic at Wimbledon. He will now face Roger Federer in the semis, assuming both make it that far. Nadal, however, may face the highly talented and insanely mercurial Nick Kyrgios in the second round.
10 Halle titles & 102 tour-level 🏆 for @rogerfederer 👏#RF102 | @ATPHalle pic.twitter.com/uJ0nwXgsSG

— ATP Tour (@ATP_Tour) June 23, 2019
Roger Federer's quarter analyzed.
Fresh off the Halle conquest, Roger Federer will start his Wimbledon campaign against Lloyd Harris and could face either Lucas Pouille or Richard Gasquet in the third. Pouille and Gasquet, incidentally, have been pitted against each-other in the fist and we expect that match to go the distance.  Borna Coric in the fourth could pose problems for Roger but not enough to upset the Maestro. A possible meeting with Kei Nishikori in the quarterfinal could always be dangerous but we expect Roger to pass that test too. With 102 tour level titles, and 8 Wimbledon crowns, Roger simply cannot be overlooked. He and Novak are the joint favorites, in our book, to lift the Wimbledon trophy this year.
Semi finalist: Roger Federer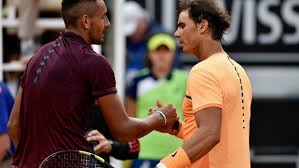 Rafael Nadal's quarter unfolded.
Rafael Nadal's draw is downright nasty, with a possible third round against Dennis Shapovalov if he can get past Nick Kyrgios in the second. Shapovalov has beaten Nadal in the past but Nick Kyrgios is 3-3 against Rafael Nadal and has his number on hard and grass courts.  two of the three wins against Nick have been on the clay and Nick took down Rafa at WImbledon in 2014. If Rafa can get past both Kyrgios and Shapovalov he might face Marin Cilic in the fourth, and Cilic with the big serve can be very dangerous on the grass. If the seedings hold and both Dominic Thiem and Rafa make the quarter final, we give Thiem a 55% shot at beating Rafa. Thiem, however, has a tough first round against Sam Querrey and may not survive, Querrey, to see the second.
Semi finalist: Rafael Nadal

Novak Djokovic has it easy until the finals.
Novak Djokovic may experience a minor speed bump against Philip Kohlschreiber in the first round but that shouldn't stop the World number one from moving into the next round. We do not expect either Dimitrov or Monfils to bother Novak in the fourth. Stefanos Tsitsipas or David Goffin could make it tough for Djokovic in the quarter final, and Tsitspas, we believe, is quite capable of making the upset.
Semi finalist: Novak Djokovic

Kevin Anderson's quarter is the most exciting.
The second quarter we believe is the most open and, therefore, exciting and with no clear favorite at he moment. The quarter with Kevin Anderson, Alexander Zverev, Milos Raonic, Stan Wawrinka, and Karen Khachanov is bursting at its seams with an opportunity for many. It won't surprise us a bit if Kevin, the last year's finalist, succumbs to Herbert in the first. Who will step up and make the semi final from this quarter?
Semi finalist: Karen Khachanov