French Open Tennis: Rafael Nadal wins his 11th French Open title by beating Dominic Thiem in straight sets.
How do you beat Rafael Nadal at the French Open without a high first serve percentage and the net game on a song?
Rafael Nadal beats Dominic Thiem in straight sets.
Rafael Nadal was quite dominant in his 6-4, 6-3, 6-2 victory, but Dominic Thiem did try to make a match of it. Against anyone else, Thiem would have probably won his first slam. He was, however, facing Rafael Nadal in the finals at Roland Garros, and Nadal was not going to give the match to Dominic Thiem, and Thiem was not up to the task of taking it away from Rafa.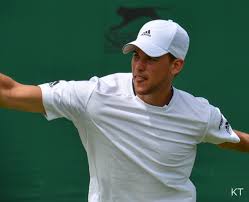 This match could help Dominic Thiem mature as a player.
Hopefully, Dominic Thiem would mature as a player by next year, and avoid hitting inside-outs directly at Rafael Nadal while leaving the forehand side of the court free for Rafa to exploit. Thiem may even do well to take down a few kilometers of the first serve to improve his first serve percentage.
Rafa is the God of Clay.
What can we say about Rafael Nadal? He is not just the King but the God of Clay. The way he goes about solving problems on the court in exemplary.
The first set.
Dominic Thiem went toe to toe with Rafael Nadal in the first set and even broke Rafa to win the break back. However, on serve at 4-5, he lost focus and produced four consecutive unforced to go a set down. Dominic never recovered from a flubbed volley on the first point of that game.
The second and the third set.
The second set witnessed only one break of serve and was enough for Rafael Nadal to be in the driver's seat. He played more freely in the third. Dominic, on his part, didn't capitulate entirely, but lost the fight and resigned to, what seemed, the inevitable.
Taking charge of the point, and positioning oneself to hit the forehand.
The match was a constant battle, between the two, to position oneself to hit the forehand and take charge of the point. Nadal, quite surprisingly, stayed closer to the baseline and struck that backhand early and in a commanding manner. Thiem needs to move in and intercept some of those loose and floating balls in the air, if possible. He allowed Nadal too much time for recovery and paid the price for it.
Nadal's 11th French Open title.
Rafael Nadal goes back a happy camper with his 11th Coupe des Mousquetaire's and probably looks forward to riding the momentum into the grass season. Dominic Thiem, on the other hand, goes back with the knowledge of his shortcomings and what he must do to win this event in the near foreseeable future.