ATP Monte Carlo Masters: The Massacre in Monte Carlo by Rafael Nadal.
Rafael Nadal decimated Dominic Thiem, arguably the second best player on clay this year, 6-0, 6-2 in the quarterfinals at the Monte Carlo Masters and conclusively put to rest any speculation about Thiem, or another young gun, upending him at the French Open in 2018.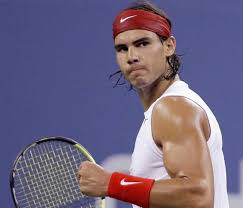 Dominic Thiem was no match for Rafael Nadal.
Dominic Thiem stood no chance as Rafa pulverized him with his consistency and forehand. The one-dimensional tactic of sending high kicking balls to the opponent's backhand continues to be Rafa's main game plan against players with a single-handed backhand, and it still works. Dominic Thiem could not win a game until midway through the second set and had no answer to Nadal's intensity. The match confirmed the obvious that Rafael Nadal is the undisputed king of clay.
Grigor Dimitrov overcame David Goffin.
The other quarterfinal, in the top half, featured Grigor Dimitrov and David Goffin, and Dimitrov won 6-4, 7-6 (5) in that tightly fought but error-strewn quarterfinal. David Goffin led 4-0 in the second but missed three set points at 5-4 to eventually lose in the tie-break. Dimitrov's reward for that hard-fought win is a meeting with Rafael Nadal, and there is little reason to believe that a healthy and well-rested Nadal can be taken down by Grigor Dimitrov on the clay. Grigor is 1-10 against Rafa and the two had a three-setter in 2013 at the same venue but this time around should be easier for Nadal.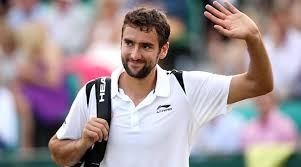 Marin Cilic was taken down by Keo Nishikori
Kei Nishikori has had a great tournament so far and has a good chance at reaching the finals after his close 6-4, 6-7 (1), 6-3 win over Marin Cilic in the quarterfinals on Friday. Nishikori could have finished the match in the second but could not close when serving for the match at 5-4 in the second. Kei Nishikori had been nursing a bad wrist since the last year's US Open, and couldn't have asked for a better performance against the 2018 Australian Open finalist. He will play the semifinals against Alexander Zverev who squeezed through a tough 4-6, 6-2, 7-5 win against Richard Gasquet on Friday. Zverev and Nishikori have met just once, on the hard courts in DC, and Kei Nishikori stands a good enough chance at equalizing the head-to-head record between them.
Semifinal winners: Rafael Nadal over Gregor Dimitrov in two, and Kei Nishikori over Alexander Zverev in three.