Will Alexander Zverev solve the Novak Djokovic quiz at the 2019 Roland Garros?
Alexander Zverev is well acquainted with not only the history but also trivia of tennis. In a pop tennis-quiz recently, Zverev scored a 100% without breaking a sweat. If solving Novak Djokovic on the tennis court was as easy, Sascha would like his chances of winning the quarterfinal at the 2019 Roland Garros on Wednesday.
UNREAL

Great knowledge from Alexander Zverev. 💯 #RG19pic.twitter.com/MaY31VABQL

— ATP Tour (@ATP_Tour) June 1, 2019
Novak Djokovic is playing wicked tennis at the event.
Novak Djokovic has not dropped a set en-route to the quarters, and has shown perfect form so far. Djokovic, in fact, hasn't even been challenged so far! He is aiming for a second Djoker slam, and winning the French Open this year will make him the second man, after Laver, to win all four slams, in a row, twice.
Sascha Zverev has gained in confidence with each match.
Sascha Zverev is playing better now than in the initial rounds of the event. His opponents en-route to the quarters were probably the toughest of all quarter finalists. John Millman, who took down Roger Federer in the U S Open last year, in the first is one of the fittest on the tour, the 30 ranked Lajovic in the third is as tough as they come, and Fabio Fognini in the fourth is one of the best shot-makers on the tour. Zverev overcome all those tough opponents to book a birth in the quarters, against Djokovic.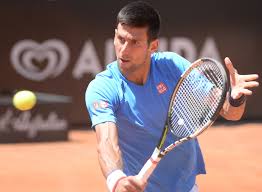 Novak Djokovic versus Sascha Zverev.
Novak has yet to be pushed at the event, whereas Sascha has had grueling matches so far, and Sascha, moreover, knows how to beat Novak on the clay, and won the only clay-court encounter between them in 2017. He also beat Novak in the finals at the ATP Tour Finals, in London, last year. The head to head record between them is evenly matched at 2 apiece.
Novak, however, is playing excellent tennis and determined to complete another Djoker slam, and even the great Rod Laver has tipped Novak as the favorite to take home the 2019 La Coupe des Mousquetaires.