What are Zverev's prospects at the 2020 US Open?
Alexander Zverev has a booming serve, powerful ground shots, and good movement for a tall player. He can beat just about anyone on his day. But in the last 18 months, those days were far and few in between. Ranked 7 in the ATP, Sascha is a threat on hard courts around the world. So, what are Zverev's prospects at the US Open 2020?
Zverev enjoyed a stellar 2018
Sascha's played aggressively in the 2018 ATP Masters finals against Djokovic. He played inside or near the baseline, and charged the net to finish points quickly. We miss that aggressive Zverev avatar. Since then, he regressed into a defensive bot, comfortable ten feet behind the baseline. What a waste of the towering height and powerful all round game!
Also read – What's wrong with Zverev's game?
2018 was a stellar year for Sascha. He won 4 titles with a 60-19 win-loss record that year. Sascha won the Davis cup matches against Alex Di Minuar and Nick Kyrgios in February. He defeated Medvedev, Kyrgios, and Coric en route to the finals at the ATP Masters 1000 in Miami. Zverev also made the finals in Madrid and Rome and it took Thiem and Rafa to stop him there. He lost to Thiem in the French Open. Sascha defeated Tsistsipas and Alex Di Minaur en route to the title at the Washington Open and took out Federer, Cilic, and Novak for the ATP Masters at the year end.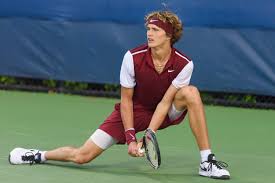 Zverev's 2019 and 2020 were lackluster as compared to 2018
In 2019, however, Alexander Zverev won just one event. The lone title came on the clay in Geneva Switzerland. And, Nicolas Jarry, ranked 75, was the highest ranking player Zverev faced in that event. A tired Medvedev, hesitant Nadal at the year end ATP Masters, as well as the not so young Federer. towards the end of the season, were the only top ten scalps he claimed in 2019.
Zverev's 2020 began with back to back losses against Minaur, Tsitsipas, as well as Shapovalov! The loss against Alex de Minaur was specially shocking because di Minaur lacks a weapon and could still bring him down. He recovered some lost ground by reaching the semis at the Australian Open, but lost in 4 against Thiem. He even lost to 66 ranked Tommy Paul in Acapulco!
A losing record against contemporaries since the start of 2019
Sascha's enjoyed a 1-1 record against Tsitsipas in 2018, since then, however, he lost 4 straight to go down 5-1 against the Greek. He lost a clean 4-0 record against Alex de Minaur in 2020, by going down to him in Brisbane. Zverev enjoyed a 3-0 head-to-head advantage against Denis Shapovalov until 2018, but lost both the encounters against him since then.
What are Zverev's prospects really?
Zverev, however, is ranked 7 in the ATP rankings. And, rankings rarely lie. So what are Zverev's prospects, really? He is good for a quarterfinal showing at the 2020 US Open, and then anything can happen! And, we hope something does happen for Sascha's sake at the US Open this year.