Thiem won but Zverev showed promise of better tennis
Dominic Thiem defeated Alexander Zverev 2-6, 4-6 , 6-4, 6-3, 7-6 (6) in the 2020 US Open final. Thiem won but Zverev showed promise of better tennis in the years to come. Had Zverev used the baseline power to finish more at the net, he would be the last man standing.
Sascha's net game could be honed into a weapon
Thiem barely eked out a win in a battle lasting just over 4 hours. And, Zverev appeared to be onto something by serving and volleying and even looking to finish rallies, albeit rarely, at the net. Sascha won 65% of his attempts at the net. He, however, approached his friend, the net, merely 66 times to win 43 net points over 46 games. An average of less than 1.5 volley per game. Zverev won 159 of 322 points and 27% of those 159 points were won at the net! He owed it to himself to implement more of the winning strategy.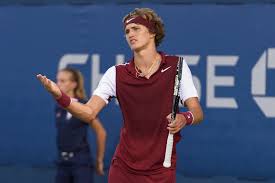 Thiem won but Zverev showed promise to become a better player
Sascha's tremendous serve and raw baseline power is, more or less, neutralized by his not so exceptional movement if the rally extends beyond four shots. He moves exceptionally well for a 6'6" but not as well as Thiem, DJokovic, and many others in the ATP. Zverev can not only clock 135 on the serve regularly but also hold his own at the baseline. But he should not be content with merely "holding his own." Sascha can become devastating from inside the baseline and at the net. He lacks the superior transition game of Roger or the volleys of Murray. But, those can be honed with practice. Thiem won but Zverev could study the stats of the match to learn and emerge a better player. Zverev is also younger of the two and has time on his side.
Neither is ready to take on the BIG three in slam finals
Thiem and Zverev showed nothing spectacular in their 4 hour battle. At least nothing that announced their readiness to take down the Big Three in a slam final. Even Roger, at nearly 40 years of age, would stand a 55 to 45 shot at winning a slam final against either. This really does not bode well for tennis.