Tennis: Federer struggles to handle Zverev's powerful groundies and serves at the ATP Finals in London
The much anticipated Becker group match between Alexander Zverev and Roger Federer, at the ATP Finals in London, was a tight three-set thriller won 7-6 (4), 5-7, 6-1 by Federer.
The first set between Federer and Zverev was a thriller.
Federer lost three points in a row to unforced and then aced Zverev to reel off 5 points in a row and won the game from 0-40 down. Zverev started his service game with a double fault and then produced strong tennis to avoid being broken, in the very first game. In contrast, Roger Federer sailed through his next service game without losing a point.
The fifth game, of the first, saw scintillating rallies including a 22 point one won by Zverev. Sascha's serves always came to his rescue when required, and Federer's intensity levels dropped just a little in the 6th, 7th, and the 8th games but Federer picked the level from the ninth game. Both held their serves until the tiebreak. The 12th game of the set had some furious exchanges between them, but Zverev was able to contain Roger's dogged aggression and avoided the break.
Helped by a few errors from Federer, Zverev quickly raced to a 4-0 lead in the tiebreak, but Federer erased that lead by winning the next five points, and then lost the next two, allowing Alexander Zverev the first set point. Zverev, however, was not able to capitalize on the opportunity, and it was Federer who won the set by drawing an error from Zverev on a well executed low short slice.
Roger Federer's serve percentage and game dropped significantly in the second.
Alexander Zverev started the second set with serve and gifted Roger two double faults and the break. Zverev never stopped fighting and giving his best, but Federer after the first had relaxed a bit and was hitting more freely. In the 4th game, Roger Federer double-faulted twice, followed that up with an easy mid-court forehand error for a break-point.
Suddenly errors started flowing from Roger's racket, allowing Sascha to earn the break right back, and for the first time forced Roger Federer to drop his serve in this tournament. Federer's first serve percentage dropped significantly, and so did his game. The second set became an intense dogfight, with nothing working for Federer, primarily because of the heaviness of Zverev's ground-shots. In the 12th game, Roger went down three break points and lost the set 7-5. Zverev won twice the number of baseline rallies won by Roger, in the second set.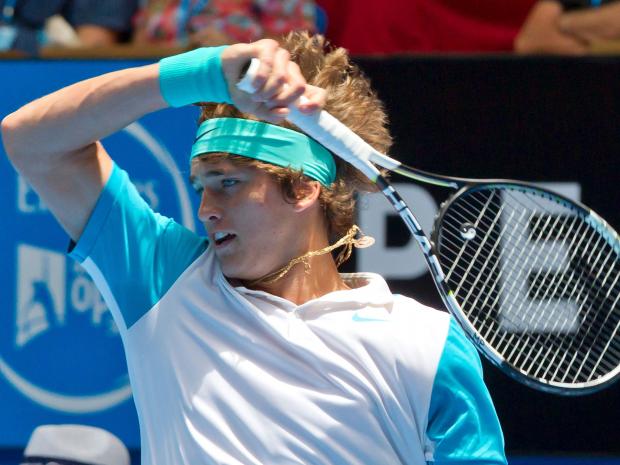 Federer seemed flustered by Zverev's heavy ground shots and powerful serve.
Zverev's powerful serves and heavy ground shots continued the damage at the start of the third, and Federer was unable to find his groove. Federer needed his first serve to return, and win a couple of long rallies to get his rhythm and confidence back. Zverev obliged by losing his serve at 1-1 and gave Federer the lead in the 3rd set. In the fourth game, Federer then managed to put two consecutive first serves in for a 40-15 lead and win the game. Zverev donated Federer another break, with an error-filled fifth game, for a 4-1 lead. The sixth game was a struggle for Roger, but he managed to hold onto his serve for a 5-1 lead. Federer went on to win the third 6-1 on a double fault from Zverev.
Whats' next for Zverev and Federer?
Zverev is a promising Next Gen player who'll continue to improve over the next few years. His heavy ground-shots and powerful service give him an edge over others of his generation. A little more variety and comfort at the net would go a long way in increasing his prospects of becoming a multi-slam winner, in the future.
Was Roger Federer having a bad day at the office, or incapable of handling the pace of Zverev's ground-shots and serve? We'll know a little better when these two, hopefully, meet in the finals again.