Tennis: Federer meets Kyrgios and Pouille against Raonic in Stuttgart semi-finals.
While Roger Federer played solid grass court tennis to get past Guido Pella in straight, Nick Kyrgios was stretched into three by Feliciano Lopez. On the bottom half of the Stuttgart draw, Milos Raonic and Berdych settled their score in two tie-breaks going in Raonic's favor, and Lucas Pouille won a three-set battle against Dennis Istomin.
Roger Federer didn't allow his serve to get broken against Guido Pella.
Federer sailed smoothly in his quarterfinal match and broke Pella once in both sets. The only hiccup in this otherwise easy win for Federer came in the last game of the second set when he went down two break-points for 15-40. Federer, however, contained Pella and recovered quickly to close the game for a 6-4, 6-4 victory.
With the quarterfinal win over Pella, Roger extended his grass-court streak to 14 wins in a row.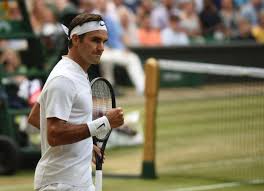 Federer is only a win away from reclaiming the number one rank.
Roger Federer is just a win away from clinching the number one ranking again. He, however, has a formidable opponent in Nick Kyrgios who has been serving lights out at the Mercedes Open in Stuttgart this week. Kyrgios and Federer have played two three-set matches split 1-1 between them, and all six of their sets stretched into tie-breaks. Based on their last two meetings, this match should also be a nail-biter to the very end.
In his quarterfinal round against Feliciano Lopez, Nick Kyrgios served 20 aces in two sets, and the outcome of the match may, therefore, rest on Federer's ability to neutralize Nick's serve.
Outcome: Roger Federer in three, or Nick Kyrgios in three with more than 20 aces.

Repeating his title win in Stuttgart will not be easy for Lucas Pouille this year.
Lucas Pouille won this tournament last year and would love to repeat that feat. He, however, has Raonic and then the winner between Federer and Kyrgios to beat before he can claim the trophy again this year. Lucas Pouille has a losing 0-2 head-to-head against Milos and 0-1 against Nick Kyrgios and, as well as, Roger Federer.
Lucas has won five titles, and one this year, so far in his career. He is ranked 17 and has an effective all-court game when playing well. Beating two consummate grass-court players back-to-back, however, would be a tall order even for Lucas Pouille.
Outcome: Milos Raonic over Lucas Pouille in three.