While the clay season is in full force with Nadal winning all of his matches on dirt so far, there are some others making news off the court.
The "Kim Kardashian" celebrity news-maker award for this week goes to Roger for his fashion defining Cobra jacket at Met Gala event.  What was Roger thinking when he picked that particular jacket out for this event?  If he was trying to get noticed in a crowd of celebrities then he not only succeeded but also confirmed his next line of work, I say.   Well he certainly looked amusingly cool and draper in it and Mirka, by his side, only added to the Fed charm and enigma.  Has this bloke been "touched" or what?

The "Shock & Awe" news-maker award is bagged by Djokovic for not only giving the tennis world a pleasant surprise of another baby on way but also by announcing the parting of ways with his entire support team including Marian Vadja who had been a permanent fixture of team Djokovic for the longest time and steered Novak's climb from zero to 12 slams within the last 10 years!   Just when we thought that Novak had bottomed out in both personal and professional fronts and the only way hereafter would be up, he shocks us with yet another confirmation of turmoil in the Djokoland.  What's next ….. "will it be the French Open crown or news of immediate retirement in pursuit of nirvana?"
Another noteworthy news-maker included Ferrer for winning two matches in a row after 4 consecutive first round losses since the Australian Open 2017.   Ferrer has been a case of injuries and burn out and with his fetch every ball style of play it was perhaps the most likely outcome at 35 years of age.  Will Djokovic and Nadal be facing the same fate sooner than 35?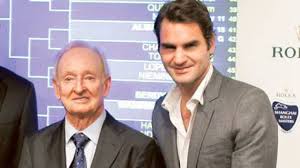 Rod Laver too made an appearance to declare that Roger could win the French Open this year.  Laver said, "It isn't a far-reaching situation for him to win the French Open."  Had anyone else, including Nadal himself, made this declaration I would not have considered it worthy enough to merit a mention.  However every tennis related observation and wisdom from the Rocket must be covered for the sake of posterity.  Yet again, with the way that Nadal has been playing and Federer absconding I find it hard to swallow that Roger will stand a chance against Nadal if it ever comes to a Roger v/s Rafa at the Roland Garros.  Then again, who am I to question the Rod?  Laver also credited Roger's backhand  as the game changer and stated "it's like he found a totally new backhand …"   I feel vindicated that even Laver agrees with something I wrote sometime back in April at — https://www.138mph.com/rogers-backhand-the-new-kid-in-town/.
Finally, in the world of real professional tennis, Madrid Open's draw is being hailed as pro Murray and Djokovic, and anti Nadal by many.  Draw analysis however, is an entirely different subject which shall be tackled soon in a separate post here.