Wimbledon – the reason Nadal lost to Muller
Nadal is the ultimate warrior and in his 4th round match at Wimbledon with Gilles Muller he demonstrated yet again how the will to not loose can provide ample opportunities to win.  However, Nadal was not able to capitalize on those crucial opportunities this time around!  Was it the grass, which apparently is not too kind to Nadal's oft injured knees, or Muller's highly aggressive game?  It was probably a mix of both combined with some other factors.  However, I firmly believe that it is the defensive mindset of Nadal which laid the foundation for this and many other very close losses that he has had.
Defensive mentality
Nadal was and still remains a quintessential defensive-mentality player who, like many others of his generation, was aided by the general slowing down of the courts and homogenization of surfaces coupled with amazing advancements in string technology.  In addition to that he was a machine created to topple the reign of Federer and he accomplished that perfectly well.  Therefore, as a slave of habits, which we all are, he still reverts to patterns which were exceptionally effective in toppling Federer until the start of this year.  The same old use of heavy high-rising top-spun forehand to attack cross court on opponent's backhand side, standing 10 feet behind the base line to give himself a chance to return even the best of Roger's serves and off-course battle till the last point and wait for Roger's ground shots to fall-apart.   However, except for on clay, these tactics do not work even against Roger anymore let alone a left-handed serve monster and net rusher adept at cutting angles by approaching the net.
Nadal & Volleys
It is no secret that Nadal has excellent volleying skills and he wins more than 70% of his net forays too.  However, winning more than 70% of his net sojourns just indicates that he is not going up to the net enough and his net visits are being carefully hand-picked for a high success percentage and not as a match strategy to apply relentless pressure on the opponent which someone like Muller does and even Roger resorts to every once in a while.   In his post match interview Nadal even bemoaned a crucial tactical error of moving incorrectly up to the net on a cross court shot.  That happens when you cherry pick the opportunities to move to the net and not make it a regular part and parcel of your general game.  Nadal comes to the net only if doing anything else would be silly.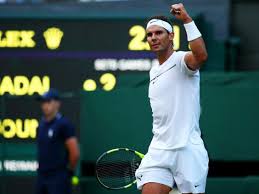 Nadal's comfort zone
Nadal can also serve at 128mph+ and play near or inside the baseline but at the slightest sign of troubles and adversity he seeks his comfort zone and invariably parks himself between 5 and 10 feet behind the baseline, cuts back on flattening his ground shots and first and second serve mph to avoid errors.
Numbers don't lie
The stats of this match are very revealing and further confirm that Nadal is truly defensive at core.  Nadal had 17 unforced errors to Muller's 52, and won 198 total points to 191 by Muller but still lost the match!  Further, the stat on distance covered by players reveals that it was Muller controlling and making Nadal run around which Nadal, as always, was more than happy to do.
Now what?
We are all creatures of habit and find solace in them when the going gets tough, and Nadal has won 15 slams because of these very habits.  Therefore, Nadal should continue doing what he does and implement game plans, depending on the surface and opponent, as best as he can while feeling good about the fact that there is always the clay season to dominate.
Save
Save
Save
Save