Wimbledon- Federer Into Semis, Title In Sight
Roger Federer vs. Milos Raonic
Federer has defeated Milos Ranoic in straight sets, 6-4, 6-4, 7-6 (7-4), to reach the semi finals of this year's Wimbledon. In an effort to win a record eight title, Roger took successful revenge against Roanic who defeated him last year at Wimbledon.
Federer played strong. He was in control and dominating throughout the match. There only seemed to be an instance of doubt in the third set, where he had to save four break points to ensure that the set would go to a tiebreaker. He hit 11 aces and 46 winners.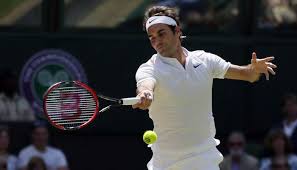 Taking the ball early
When Roger's serve is clicking, the rest of his game seems to fall together, much like it did in his quarterfinal match. Roger stayed close to the baseline, leaning in to his backhands, and hitting the angled shots at the right time to win the point. In fact, Federer is taking the ball extremely early, and with this fast style of play he is able to prevent the matches from dragging on for too long which would get him tired.
Federer is now the second man to play 100 matches at Wimbledon in the Open Era, after Jimmy Connors, and this is his 42nd Grand Slam semifinal. While Nadal, Novak, and Murray have been complaining about injuries and are considering taking time off, Roger is still able to perform at a high level. This can also be attributed to his impeccable form and fast playing style.
The favorite now
Now that Novak and Murray are out of the draw, things seem a lot easier for Federer. He is a sure favorite now.  However, Roger should not rest easy as both Berdych and Cilic have beaten him in slams and Federer could have one of those bad days against either of them.
"I'm very happy that my body kept me going all these years. I hope that Novak's OK with his injury. Rafa fought to the very end the other day and Andy also hasn't been looking very good. I hope he and Novak will recover in time for the American summer but there are other good stories in the tournament," said Roger.
"I predicted Marin Cilic could go very far this week and maybe it's nice to see different guys in the finals."
Roger should have this in the bag, as long as he doesn't let his guard down.
Save
Save
Save