The Season's Trendiest Tennis Accessory
Hate carrying around more than one bag to and from the tennis court? Why not get one tennis bag that totes everything you need? The Hadaki tennis tote is the trendiest tennis accessory of the season that has the functionality of both a gym bag and tennis bag. Its deep pockets, colorful designs, and high-quality, eco-friendly, and water resistant material make it ideal for any situation. Our tennis tote bags are perfect for tennis players who want nothing but the best.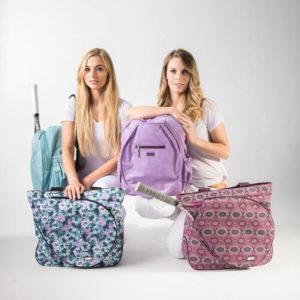 Tennis Totes Feature
Carry around both your tennis gear and personal belongings in one place. Each Hadaki tennis tote comes with these unique features:
Lightweight, water-resistant fabric
Front exterior pocket for tennis racket
Large slip pocket and small zippered pocket on back
Main internal compartment with tennis ball pocket, multiple slip pockets, zippered pocket, and key fob
Fun colors and fashionable prints
Eco-friendly, azo-free, and phthalate-free
The outer pocket is made to store your racket and protect all its strings. The large interior pockets of the bag can hold tennis balls, gear, or a change of clothes for after your match. The inside zippered pockets offer a safe, secure way to contain your most valuable personal belongings, whether it's your phone, wallet, or watch.
Trendy Tennis Totes For All
Customers love to gush about their unique and stylish tennis tote bags. Our bags are offered in over a dozen one-of-a-king patterns and colorful designs. They're not your usual sweaty gym bag; they're real fashion statements. The Hakaki tennis totes are great for both men and women because there's a tennis tote design for everybody. Shoppers who like fun, floral patterns will love the Shadow Flowers print. Customers who want a more conservative look will love one of Hadaki's simple, one-colored totes like the Plum Perfect. Better yet, buy a selection of tennis totes and wear one to match a new outfit every time you're on the court.
Shop Hadaki
Hadaki tennis tote bags are truly some of the most stylish tennis bags on the market. Aside from their colorful designs and superior functionality, each bag is eco-friendly and made with the environment in mind. ShopHadaki today and pick a bag that matches your style and personality!