Tennis: Roger Federer wants to make his girls happy, and Medvedev meets Herbert, and Dimitrov to face Krajinovic at the Rotterdam Open.
Roger Federer is going for the number one spot at the hard courts of Rotterdam and looked dangerous in his first match against Ruben Bemelmans yesterday.
Daniil Medvedev versus Herbert Pierre-Hugues.
It came as no surprise when Richard Gasquet decided to retire against Pierre-Hugues Herbert at Rotterdam. Gasquet was worn down by the five matches, including two three and one four-setter that he had to play within the last ten days. Pierre-Hugues Herbert, however, caught a break after two tough three-setters in the qualifying rounds against Ignatik and Berankis. In 2017 too Herbert had qualified for the main draw here and took down Dominic Thiem in the quarters before losing to David Goffin in the semis. He now faces Daniil Medvedev, who also came through the qualifiers here but all his matches have been won in straight sets so far. Medvedev has already downed the big servers Mahut and Muller here, and Herbert could be his third big-serving scalp this week. Herbert and Medvedev met once in 2015, and the Frenchman had won that match. This outing between them, however, is very evenly matched. The winner between them will meet Andreas Seppi who has already made it to the quarters by taking out Alexander Zverev yesterday.
Outcome: Daniil Medvedev in three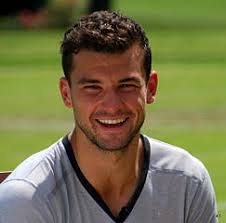 Grigor Dimitrov meets Filip Krajinovic in the other pre-quarter.
The Bulgarian is coming back from a shoulder injury but has a 3-0 edge over the Serbian. The World number five, Grigor Dimitrov, failed to defend his title at ATP Sofia last week but want to do better at the Grand Slams and events he didn't do well in 2017.
Grigor Dimitrov has appeared here six times in the past and made the semifinals once in 2013. Filip Krajinovic had a stellar 2017 with five Challenger titles and seventy wins. Filip Krajinovic has a chance only if Dimitrov plays well below his level and Krajinovic, on the other hand, plays lights out tennis.
Outcome: Grigor Dimitrov in three.
Roger Federer's added incentive is to see his girls excited.
Roger Federer is aiming for the number one spot again. Philipp Kohlschreiber, on the other hand, has yet to beat Roger Federer in the twelve times that they have met. Federer's form was on full display in dispatching Ruben Bemelmans in straight on Wednesday. The Swiss won over ninety percent of his first serve points, and did not lose a point on his serve in the second! Roger Federer also has the added incentive to watch his girls see him reach the number one slot. "My girls would be very excited if I come back to number one. They don't even know I have a good chance to do it again," Federer said after his win against Bemelmans.
Outcome: Roger Federer in two.