Tennis: Jack Sock beats Marin Cilic to score his first win at the ATP Finals in London.
Jack Sock and Marin Cilic were 0-1 each at the ATP Finals in London until Sock's win over Cilic today. The match today was to decide which one of them would score his first win of the event.
The first set between Jack Sock and Marin Cilic.
These two have played twice, and both times the matches went the distance with five and three-setters, and Jack Sock won both those encounters against Marin Cilic.
Cilic versus Sock began with Sock breaking Marin Cilic and then Cilic returning the favor by breaking Jack Sock back immediately. Serving 15-0 and 1-2 down, Jack showed his touch by luring Cilic in with a drop shot and then lobbed over him for a clean winner. Both held their serve until Jack Sock was broken again in the 12th game to lose the first set 7-5.
The second set.
Sock began the second set by breaking Cilic again and, unlike the first, then held onto his serve. In the third game, Jack Sock came quite close to losing the break-advantage but managed to escape unscathed. He won that game with a well-executed drop-shot. Sock then broke Marin Cilic the second time in the set to go up 4-1. The last game of the second set had beautifully executed drop-shots by Jack Shock, showcasing Sock's delicate touch.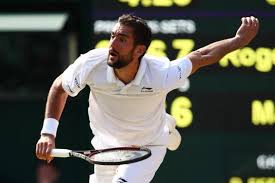 The third set between Sock and Cilic was a thriller.
It was Jack Sock's turn to be broken in his opening service game in the third set, and Cilic put himself in the driver's seat with an early break and 3-0 lead. However, Sock broke back in the fifth game to make it 2-3 on serve again. Both players stayed on serve and in the tie-break, Marin took the early lead for 4-2, when Jack Sock upped his level to reel off 5 points in a row and win the tie-break 7-4. Jack Sock won the match 5-7, 6-2, 7-6 (4) and improved 3-0 against Marin Cilic.
What's in store for Jack Sock in 2018?
Jack Sock is like Speedy Gonzales on the court. He has a monster forehand and a big serve, yet, unlike Marin Cilic, he has not reached the finals of a slam or won one yet. What is holding him back? Perhaps his newfound confidence after his win at the Paris Masters 1000 will help him make the next leap.