Tennis: Dennis Shapovalov loses to Frances Tiafoe but is still our pick for the most talented and promising youngster.
Dennis Shapovalov lost 7-5, 6-4 to Frances Tiafoe in the semifinals of the Del Ray Beach Open in Florida.
We believe that Dennis Shapovalov is the next coming of Roger Federer.
When it comes to talent and prospects based on the holistic evaluation of our experts, tennis 138mph has been touting Dennis Shapovalov as the next coming of Roger Federer since the ATP Masters in Canada last year. However, we did not expect the young Mr. Shapovalov to reach yet another semis so soon after his breakthrough performance at the Canadian Masters where he defeated Rafael Nadal last year. Let's not forget that this youngster is only eighteen and wields a single handed backhand, which takes inordinately long to master.
Shapovalov's performance at Del Ray vindicates our faith in his talent.
By dispatching the serve-bot Ivo Karlovic, Jarred Donaldson, and an in-form Fritz Taylor to reach the semifinal at the Del Ray Open, Dennis has vindicated our assessment of his talent and the infallibility of the 138mph Ranking Matrix. However, we reiterate that it'll take another eighteen to twenty-four months for Dennis Shapovalov to mature as a player and produce tournament winning results.
The single-handed backhand's disadvantages.
One of the main reasons that Shapovalov will need about two more years is his single-handed backhand. Not only does the single-handed backhand require the talent for proper execution but also takes longer to mature into a weapon.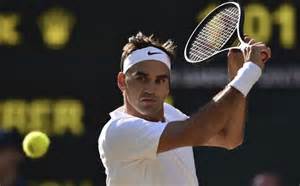 The single hander is only for the super talented.
The advantages of reach, power, variety, and surprise are accessible to the single hander wielded by the super talented Roger Federer and Dennis Shapovalov. The single-handed backhand with today's larger racket-head frames and advancement in string technology can be an ominous WMD. However, its real disadvantage is the time required to master the nuances at various levels of the game. The single hander was considered inadequate against the high rising top-spin ball until Roger Federer demonstrated, in 2017, it can be neutralized by moving inside the baseline and not only contacting the ball very early to prevent it from rising above the waist level but also cutting the angle which tends to amplify with its rise. However, to pull that feat off consistently requires serious talent, skill, and experience. And, as demonstrated by Stan Wawrinka, the single-handed backhand can be hit harder than the best double-handed shot on the tour. In conclusion, a properly executed single hander is not only a thing of beauty and a joy forever, but also requires impeccable timing to pull off; and cannot be muscled like a double-handed backhand.
138mph is bullish on the prospects of Dennis Shapolalov.
Since turning professional in 2017, Dennis Shapovalov has claimed the noteworthy scalps of many bigwigs including Rafael Nadal, Juan Martin Del Potro, and Jo Wilfried Tsonga. We continue to be very bullish on this highly talented lad's prospects of winning multiple slams and enthralling millions with his ball striking abilities in the near and distant future. Almost all pros can win a tennis match, but only a handful can win with awe-inspiring grace and beauty. Dennis Shapovalov, we suspect, will continue to remind us of the innate beauty in tennis, after Roger Federer has bid adieu to the world of pro tennis.