Roger Federer returns as a threat – not contender – on the clay in Madrid Masters.
The Madrid Masters 2019 marks the return of Roger Federer on the clay after a three year and self-imposed hiatus from the surface. The tournament will host the contenders, Rafael Nadal, Dominic Thiem, Novak Djokovic, Fabio Fognini, and Stan Wawrinka, of clay court tennis – also the usual suspects to lift the trophy on the Sunday after next.
Roger Federer is known to avoid the grind.
Considering Federer's three years' absence from the clay, AARP card holder's status, and his natural mindset to avoid the grind, he'd best qualify as a giant slayer – and not the GIANT – this time around, in Madrid.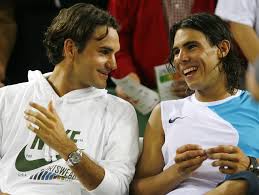 What can we expect of the Maestro in Madrid?
The age and prolonged absence from the clay should suffice to cause an early exit of Federer in Madrid. His talent, however, refrains us from predicting a straight-set and first-round loss, for him. Roger, has won the French Open once and the Madrid Masters two times and cannot easily be written off. He is also the Maestro and the GOAT, and that must also account for something – if not a lot.
Federer's best shot at the Madrid Masters 2019 would be to take out one of the major contenders.
Federer may not win more than a match or two but is good to take out at least one of the major contenders, not named Rafael Nadal, in Madrid. Making the finals would be a stretch for Roger, and a three-set duel against either Thiem or Djokovic would be as far as Roger's legs would allow him to go.
The rigors of constant retrieving are not for Roger, and the habit of standing close to the baseline will only hurt him further. First strike and super-aggressive tennis don't have the same impact on the clay, and we doubt if Roger has the stamina or the disposition to prolong exchanges.