Roger Federer admired, shamelessly, by John McEnroe during his win over Casper Rudd.
Johhny Mac has never hid his admiration for the Maestro, and didn't miss to openly and shamelessly admire Roger's style of play during the third round match, at the 2019 Roland Garros, between Federer and Casper Rudd.
Roger Federer's playing style is, undoubtedly, beautiful and elegant.
Roger's  playing style is sheer poetry in motion and a thing of beauty. John McEnroe was not over the top to swoon over the Maestro's elegant shot-making. "The most beautiful player that I have ever seen play this game," John gushed during the third round match between Federer and Rudd.
"The most beautiful player that I have ever seen play this game."

Johnny Mac loves what he sees from @rogerfederer 🙌

🎥: @Eurosport_UK | #RG19 pic.twitter.com/A8lSawmNAQ

— ATP Tour (@ATP_Tour) May 31, 2019
Roger Federer was made to earn the third set win by Casper Rudd.
Roger Federer started well and took his game a notch higher in the second set against Casper Rudd. Federer was, however, made to work and earn the third by a stubborn and aggressive Rudd. It took a tie-break, in the final set, for Roger to win 6-3, 6-1, 7-6(8) and move into the fourth round and the second week of the 2019 French Open.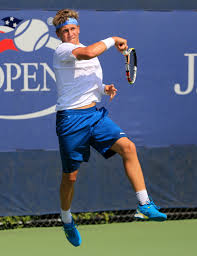 Federer liked Rudd's quiet and calm attitude.
Roger had only good things to say about the young Casper Rudd. "I liked how he figured things out after going on a tough run there of nine games. 'The third set could have gone either way [and] he had chances early, then later, and then again after," Federer commented in the post-match interview.
"It was nice to see him hang in there. 'I thought the first set also was tough [and] I can see why he's going to be good in the future. 'He's got a great attitude, very calm, very quiet."
Federer believes Casper Rudd is top 20 material.
Federer believes Casper's talent could take him into the top 20 ranking. "I like a lot in his game," remarked Federer. "Today I saw the clay courter, but I'm sure he's also got the hard court game in him. 'I think he's going to be Top 50, Top 20, hopefully soon. 'From then on, anything is possible at some stage once you get in the Top 20."
Do you agree with @rogerfederer's assessment of @CasperRuud98? #RG19 pic.twitter.com/m2wepifCux

— ATP Tour (@ATP_Tour) May 31, 2019